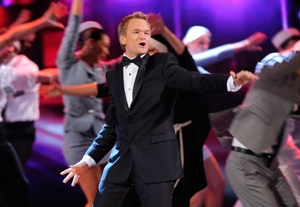 Actor Neil Patrick Harris will return to host the
Tony Awards
for a third time this year, The Broadway League and the American Theatre Wing have announced. The 66th annual awards ceremony will be held Sunday, June 10 at the Beacon Theatre in New York, and will be broadcast live on CBS.
"I'm thrilled to be a part of this year's Tony Awards,"
Harris said in a statement
. "Not only will I be shining a spotlight on the best that Broadway has to offer, but hopefully I'll score some free house seats to a show or 5."
Harris previously hosted the awards in 2009 and 2011, earning positive reviews. In addition to his starring role as Barney Stinson on the CBS comedy "How I Met Your Mother," the Golden Globe nominee and Emmy Award winner has appeared on Broadway in "Assassins," "Proof," and "Cabaret." He also starred in the recent New York Philharmonic production of Stephen Sondheim's "Company" at Lincoln Center.
"We're excited to be working once again with the extremely talented Neil Patrick Harris," executive producers Ricky Kirshner and Glenn Weiss said in a statement. "Last year's show was such a success and we can't wait to bring it to new heights this year!" Kirshner, Weiss, and Harris earned an Emmy Award in 2010 for their work on the 63rd Annual Tony Awards, in the category of Outstanding Special Class Program.
The nominations for the 66th annual Tony Awards will be announced on May 1 in a live webcast.
The recipients of the 2012
Tony Honors for Excellence in the Theatre were announced in March
. Freddie Gershon, Artie Siccardi, and TDF Open Doors will be honored this year at the annual pre-Tony Awards cocktail party on Saturday, June 9.