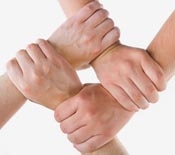 For the Welcome to New York/Moving to New York issue, Back Stage is looking for actors to share their thoughts on the art of networking — how connections with chance acquaintances led to a good audition, a great role, a teacher, a day job, or an apartment; or how friends and colleagues have given you the skinny on the best places for rehearsal space, props, a haircut, a voice class, yoga instructor, cheap clothes, or a good meal.
It is important to be as specific as possible about your experiences — no detail is too small. You don't have to be able to trace yourself back to Kevin Bacon, but we will want to know about each step of the process. This is for New York, so the stories should be Gotham-centered, but you don't have to be currently East Coast-based to participate.
Interested parties should contact Anna Bengel at abengel@backstage.com. Please include your headshot, résumé, a phone number, and the best time to call. Please respond by Jan. 4.