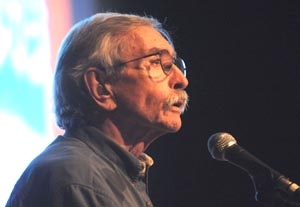 New York's Playwrights Horizons announced today that Edward Albee's "Me, Myself & I" will open their 2010-11 season.
Directed by Emily Mann, the production will star Tony winner Elizabeth Ashley ("Take Her, She's Mine") and three-time Tony nominee Brian Murray ("The Play About the Baby").  Performances will begin in August 2010 at Playwrights Horizons' Mainstage Theater. No other details have been announced.
The production was originally presented at New Jersey's McCarter Theatre in January 2008. Mann is the Artistic Director at the McCarter. Murray will reprise his role. 
Three of the four have a history with Playwrights Horizons. In 2005, Mann directed "Miss Witherspoon."  Ashley appeared in "When She Danced" in 1990.  Twice before Murray appeared with the company, in 1997's "Mud, River, Stone" and 2000's "The Butterfly Collection." 
This is the first time Albee, a three-time Pulitzer Prize and three-time Tony Award winner, will debut a play with Playwrights.
For more information, visit
www.playwrightshorizons.org
.