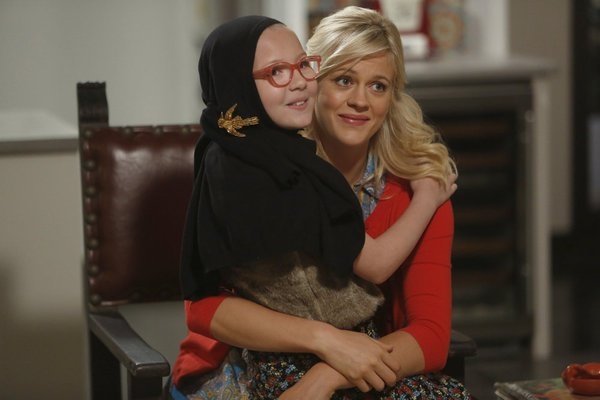 In the short time it's been on the air, "The New Normal" has gotten a considerable amount of flack for sometimes being too precious and too.... big. While I've never worn clothes anywhere near the high fashion of Bryan's seemingly endless wardrobe, it should be noted that I've also been wearing the same pair of Wal-Mart sweatpants every night since my boyfriend bought them for himself back in January. So... everybody is different.

While I do think the characters are sometimes rather larger than life, I have a television (by the way that last part is a direct quote from Julia Roberts' Oscar speech) and I am fully aware that isn't just the gay guys on TV who are larger than life.

Take Sofia Vegara. She's remarkably funny and brilliant on "Modern Family," but no one is really saying she's an inaccurate depiction of Latino women. Or maybe they are. To be honest, I don't know a lot of Latino women, which while we're on the topic, is definitely something I'd like to see change.

Like or not in the two episodes we've seen thus far, the show is doing something really cool. My Mom has called me multiple times to tell me it's her new favorite show and how moved it makes her. I know that's not because of Ellen Barkin's face. I know that's because its the closest thing my Mom has ever had to seeing what gay people who want to start a family experience, and that's pretty cool.

The most important part of this episode answers the obvious question: "How long until a show about gay dads features a child dressed as Little Edie from Grey Gardens?"

The answer is two episodes in.

Shania becomes obsessed with Little Edie and dresses up in a startlingly accurate costume. Which got me thinking, if I were a gay dad, which gay icon would I most want the kids around me to dress up as?

Talk about giving yourself a headache! The options are endless. Do you go with a little toddler Diana Ross? A baby with Barbra Streisand's eye make up from "Funny Girl"? Or do you just skip the whole damn thing and name your kid Joanne Woodward?

Everybody is different, so I suppose the choices would be too, and after all, that's the whole point of "The New Normal".