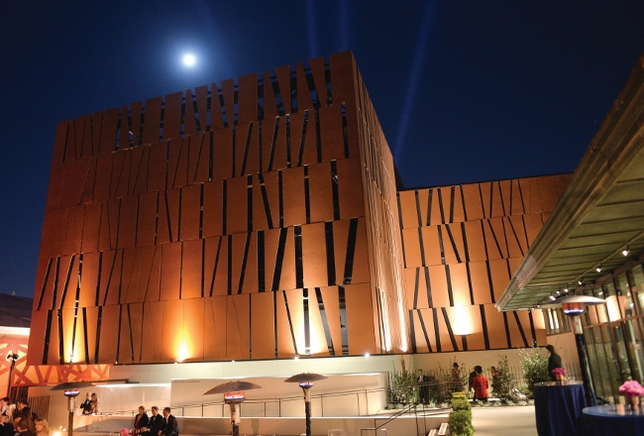 Not everyone is celebrating the opening of the Wallis Annenberg Center for the Performing Arts.
The venue, which encompasses the 1933 Beverly Hills Post Office and the new 500-seat Bram Goldsmith Theater, held a gala opening last week that drew a Hollywood crowd featuring high-profile actors ranging from Sidney Poitier to Jodie Foster to Jason Bateman.
Now, at least one Los Angeles–based casting director is calling for talent to protest the Wallis while others are saying it's part of an ongoing problem. Their gripe with the $70-million performance hall: It's casting out of New York.
For the only production it's casting this season, the Miklos Laszlo play "Parfumerie" that's set to run from Nov. 26 to Dec. 22, the center used New York–based casting director Alexander Fraser.
"Parfumerie" will feature Los Angeles–based actors in the cast, but the city's casting directors are fuming over the perceived snub.
"Beyond the immediate disappointment, I think there should be a protest," Michael Donovan, a Los Angeles–based theater casting director, told Backstage. "Los Angeles talent should protest this. I think the patrons should protest it and say, 'Why am I supporting talent from outside of Los Angeles when this is a Los Angeles venue?' It's outrageous."
Donovan noted he casts productions ranging from musicals staged at the Hollywood Bowl to big-budget plays staged at the Pasadena Playhouse and rarely has to go outside the city for talent.
"We have a huge pool of incredibly talented people here—singers, dancers, actors, musicians. Why do we do what I refer to as the genuflection to New York?" he said. "New York has an immensely talented pool, but so too does Los Angeles, [including many actors] who cut their teeth on Broadway stages."
Los Angeles already has a large touring house in the Pantages Theatre, and critics have noted that other major venues, such as Center Theatre Group, have seemed to favor high-profile touring productions over locally produced shows in recent years. Because the Wallis is a performing arts center, the city's theater community is worried it'll become another venue for prepackaged shows.
"It's a problem that has developed in the last 10 to 12 or so years with these major theater houses on the West Coast that somehow were convinced by whomever [that] there aren't the proper casting directors out here for this," said Amy Lieberman, a Los Angeles–based theater casting director. "The sad part is local producers went along with that thinking, and the L.A. talent is left out most of the time now."
A spokesman for the center said L.A.-based talent wasn't getting snubbed, and Fraser noted he's conducting a bicoastal talent search.
"The Wallis holds open calls for AEA actors for each production we produce," he said in a statement. "Open calls are advertised on Equity's website, in Backstage and on Playbill.com."
[UPDATE, 10/31] A spokesperson for the center contacted Backstage after this story was published to add that Cindy Tolan and Adam Caldwell of New York and Paul Dinh-McCrillis of Los Angeles also contibuted to the casting of "Parfumerie."