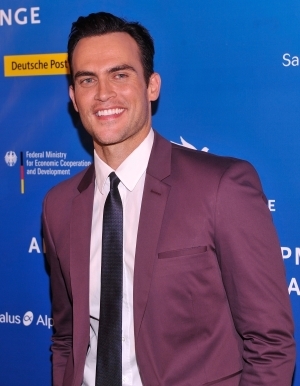 The Casting Society of America today announced that Nina Arianda, Cheyenne Jackson, Cristin Milioti, and Jeremy Jordan are among the stage stars who will be attending the 28th annual Artios Awards in New York.

The awards for outstanding achievement in casting in film, television, and theater will be presented Monday, Oct. 29, in twin ceremonies at New York's XL Nightclub and Los Angeles's Beverly Hilton. Named for the Greek word meaning "perfectly fitted," the Artios Awards are based on originality, creativity, and contribution of casting to the overall quality of a project.

Victor Garber will host the New York ceremony, where Arianda, Jackson, Jordan, Milioti, Ed Asner, Becky Ann Baker, Dylan Baker, Samantha Bee, Jon Bernthal, Matt Czuchry, Jared Gillman, Jesse Martin, Archie Punjabi, Margot Robbie, Kyra Sedgwick, Alison Williams, Henry Winkler, and Henry Zebrowski are expected to participate as awards presenters.

In addition, Cyndi Lauper and Jordan Roth will present Tony winner Harvey Fierstein with the 2012 New York Apple Award, which is given each year to "an individual who has made a special commitment to the New York entertainment industry through collaboration with casting directors." (Roth is a producer of "Kinky Boots," the new Broadway-bound musical that features a book by Fierstein and music and lyrics by Lauper.)

"When you think of Harvey Fierstein and his contributions to theatre as a playwright, whether it be from 'Torch Song Trilogy' or his more recent work 'Kinky Boots,' the plays and roles he has written are so much a part of the culture of New York City," CSA Vice President Bernard Telsey said in a statement. "Even in his work as an actor, Harvey has brought a little of the New York chutzpah to all the characters he has played."

At the concurrent ceremony in L.A., Ben Affleck will receive the Career Achievement Award, while his "Argo" casting director Lora Kennedy will receive the Hoyt Bowers Award. According to the CSA, the Career Achievement Award is given "in recognition of the recipient's contribution to the industry as a whole and their inclusion of the casting director in the overall creative process," and the Hoyt Bowers Award recognizes "outstanding contribution to the casting profession."

"Ben is one of the first all-encompassing filmmakers we have honored," CSA President Pam Dixon said in a statement. "Ben is a consummate actor, director, writer and producer." She added, "The Artios Awards are known for celebrating casting directors, who can challenge audiences with their original and bold ideas, and this applies to Lora, whose body of work exemplifies this."

The host and additional presenters for the L.A. awards ceremony have not been announced.

See the full list of 2012 Artios Awards nominees online at Backstage.com. For more information, visit www.castingsociety.com.