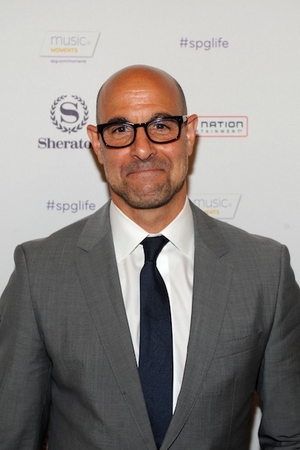 "It's the best theater camp ever!" Lin-Manuel Miranda says, gushing about his experience at New York Stage and Film, a theater company dedicated to developing new works. "All you're supposed to do is the work you've been dying to do but life gets in the way."
Miranda spent his summer vacation working on his new show "The Hamilton Mixtape" on the Vassar campus, where New York Stage and Film takes up residence every summer, and he presented two pieces from the show for a rapt—and fancy audience—at the company's annual gala at The Plaza on Sunday night.
While everyone was in bow-ties and cocktail dresses on Sunday, that's not always the case. The company really encourages artists to get down and dirty and experiment with new projects. Most of all, it's a place where you can fail as an artist, and that failure will lead you to greater successes.
Actors like Stanley Tucci, who was honored at the evening's event along with business luminary Anne Tatlock, worked with the company in the early stages of their career. Tucci has fond—and not-so-fond—memories of his time there.
"I remember staying in the dormitories and it had to be 100 degrees at least, and I had this little fan that I bought," says Tucci. "I had no money. And I bought the fan maybe for five dollars or something. It was the only thing that kept me alive. It was like some form of penance—not the work, the living conditions.
Tucci and other actors, including Julianna Margulies, share their tips for aspiring performers and favorite memories from "camp" at New York Stage and Film.