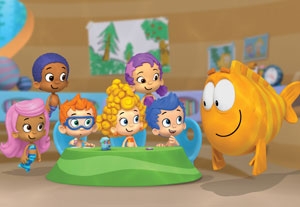 Nickelodeon is seeking new child voiceover talent to bring life to the characters on "
Bubble Guppies
," an animated series about the underwater adventures of a group of mermaid-like children. The interactive program teaches preschoolers about a wide range of topics, including math, science, music, and more.
New York casting director
Leslie Zaslower
and casting associate Danielle Pretsfelder are casting boys and girls between the ages of 7-10 who have "authentic sounding, distinct voices" to play six-year-olds. Characters include Molly, a natural leader with a bubbly personality who co-hosts the show and has star power; Gil, the "turbo-charged boy" who co-hosts the show with Molly and whose upbeat energy and insatiable curiosity are infectious; Goby, a creative kid who uses his vivid imagination to gather his friends for adventurous fun; and Deema, a "drama queen" with a huge personality who loves to be the center of attention and often speaks in an operatic, sing-song voice.
The casting directors are accepting direct submissions via Back Stage. For more information and to apply,
view the full casting notice on BackStage.com
. (Subscription required.)
The producers are only seeking talent local to New York and Los Angeles. Singing ability is a plus for all roles. If your child has already read for this project, you should not submit again. The show is produced under an AFTRA television contract, but both AFTRA and nonunion talent may apply.