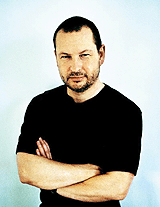 The Palme d'Or-winning Danish filmmaker Lars von Trier nostalgically recalls when he first picked up a camera at age 12, gleefully shooting trees in the forest. "I filmed everything and I was happy, but then later on, you would have to meet people while you film and that's more problematic," says von Trier. "The beginning was joyful. It still is too, to a certain degree."
Von Trier is far from mainstream appeal--you either love him or hate him. His ambitious films are often centered on the awkward outsider. He and his films have been labeled anti-American, genius, depressing, shocking, brilliant, and misogynistic--mostly for putting his leading ladies through excruciating circumstances, or, as some would say, for martyring them.
After graduating from the Danish Film School in 1983, von Trier first established himself internationally with his first of several avant-garde trilogies, the Europa Trilogy: The Element of Crime, Epidemic, and Europa. In '94 and '97 he directed The Kingdom, a haunted hospital, a two-part TV series, which became hugely popular and made his award-winning Golden Heart Trilogy (Breaking the Waves, The Idiots, and Dancer in the Dark) possible. American audiences began to take notice, and the heart-wrenching Breaking the Waves earned the filmmaker a Grand Jury Prize from the Cannes Film Festival and catapulted a then-unknown Emily Watson's career, landing her an Oscar nomination for Best Actress.
Alongside filmmakers such as Harmony Korine, Lone Scherfig, and James Merendino, von Trier not only belongs to the influential Dogme 95 movement designed to make it easier to focus on the story and the actors but he is also considered a founder/leading force behind it. Dogme 95 has its own strict manifesto, with 10 commandments full of technical restrictions, such as shooting only on location with a hand-held camera on Academy 35 in color and with no background music.
Acting Game
Von Trier has a reputation for getting authentic, career-defining, tour-de-force performances from his actors, even though much has been written about his combative relationships with them--especially the pop star Bjork, who later won Best Actress at Cannes for Dancer in the Dark. With little pay, no rehearsals, improvised dialogue, and emotionally demanding scripts, von Trier is known for his slightly severe approach to directing, which is obviously not for every actor. In an interview with filmmaker Paul Thomas Anderson for Black Book Magazine, von Trier said of actors: "They are the only tin that stands between you and a good film. That's how it is, but we're talking about control. It's a little bit like filming animals--they are uncontrollable, and they should be uncontrollable. If you want to have something from anybody, you have to give them some trust, of course, and that's why I've turned the whole thing into more of a game than direction."
But the work speaks for itself. His latest film, Dogville, opening Mar. 26, stars Nicole Kidman as a woman on the run who seeks sanctuary, for a price, in a little Depression-era town in Colorado. Von Trier had originally read in an interview that Kidman was interested in working with him, so he wrote the part of Grace with her in mind. "It was interesting to take someone who had mostly done these colder characters and to let her do something else," he has said. "And of course it's intriguing to take a Hollywood film star and put her in a film like this.... I'm best with actors when they trust me, and sometimes this trust is hard to get. I'm not sure why I need it. Maybe it's because I don't trust myself? Nicole gave me her trust immediately, which I thought was great. Paul Bettany did, too, but of course because he's a man, it was a little harder to get there."
With the Oscar-winning star on board, von Trier, along with casting directors Avy Kaufman and Joyce Nettles, attracted a stellar cast, including Bettany, Lauren Bacall, James Caan, Chloe Sevigny, Philip Baker Hall, Cleo King, Stellan Skarsgard, Siobhan Fallon, Ben Gazzara, and John Hurt. "Everybody wanted to be in this film," von Trier says, matter of factly. Von Trier faced an unforeseen challenge when the now deceased Katrin Cartlidge [Breaking the Waves] had to leave the set due to illness, and he had to refilm all her scenes again with Patricia Clarkson, who took over the role on four days' notice. Once cast in Dogville, the actors met with von Trier, then there were a couple of weeks to discuss how he saw the characters, and almost literally, shooting began with no rehearsals.
Straight Shooter
During his shoots, ideas are exchanged between the actors, and they try different approaches and sample with various angles before moving to the next scene. For instance, he may film a scene and then ask the actors to try it again without using any words from the script and then allow a lot of magic to occur in the editing room.
"Normally, I don't stop the camera. We do everything straight away," he says. "Everybody knows that I only have one hour of tape, so they don't feel like, now they have to deliver. Normally, the female actors take it the best, because male actors have more a tendency to want to control their performance. But if you can leave this behind you, I think it can be quite joyful to work this way."
In a recent BSW interview, Bettany said of working with the director: "He's difficult to work for, but most of the difficulty comes from your own hang-ups, really. He wants you to sort of just yield to him completely. And having worked with bad directors, you have to sort of protect yourself, and he just wants you to yield all responsibility of it to him. And you just play."
Von Trier believes that by acting as the cameraman himself, it gives the actors an advantage that they don't get normally on other sets.
"I am directing all the way," von Trier says of his unconventional shooting style. "You know, I'm really irritating. But I think the good thing is, normally, with a cameraman you don't get feedback from the point that you act toward, because you're just looking into this empty camera lens, and you ask the cameraman, 'Was it OK?' And he says something technical. Here, you have the director behind the camera, so you can actually physically touch the actors and see them in front of you. You have the contact, there's no question about that, all the way when you shoot, and that I like very much. This technique is actually invented for the freedom also of the actors. They don't have to hit marks or whatever."
Filmed over six weeks on a single soundstage with little production design besides chalk outlines marking the town much like a crude map, Dogville gave the actors a chance to work much like they would on a staged play. They mimed the opening and closing of doors and even the town dog and garden were no more than chalk on the black floor. They had to always remain in character even when they were in the background, and that balancing act produced quite a challenge for von Trier.
"A director is like a host at a party, and you want to keep everybody happy, and that is, of course, difficult since everybody can't be in the foreground all the time," von Trier explains. "We had a lot of very good actors that had to sit in the background. I had a bad conscience about letting them do so little. I think [the cast was] marvelous, and I would like to do other stuff with them where we are not 15 actors on a stage all at the same time." Dogville is the first of von Trier's next "American" trilogy called Land of Opportunities, originally inspired by the criticism that he received setting Dancer in the Dark in the United States without ever having been here--he has a flying phobia. Dancer and Dogville were shot in Denmark and Sweden. "This provoked me because, as far as I can recall, they never went to Casablanca when they made Casablanca." This trilogy will depict one woman's development to maturity, and von Trier is already in preproduction on the second part, called Manderlay, which takes place two days after the first film. Kidman will not be reprising her role as Grace in the next two films, so for brave BSW readers, von Trier has a message: "Could you say hello to all the actors, and say if they're cheap, I want to work with them." BSW