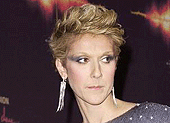 During Tuesday's opening night performance of A New Day, Celine Dion's headlining show at the new Colosseum theatre at Caesar's Palace, the star came out to do the last part of the show in bare feet. That wasn't scripted. And she let the audience know it.
"I took the gamble to come onstage and tell it like it happened," she said after the show.
At the end of the song before the costume change that left her feet naked, she was literally bolstered from the stage up into the mile-high rafters. (Maybe that's when her shoes dropped.) She was propelled into the grids in an almost messianic manner, and that may seem excessive, but considering that the $95 million dollar theatre and $30 million dollar production were designed just for her, it was appropriate.
As for the unfortunate shoe mishap, the diva was remarkably calm, so much so, that many in the audience wondered if it was just a fun part of the evening, meant to show her down-to-earth-side.
"They [the audience] like the fact that I am normal. I'm glad it happened," she said, joking, "Maybe we'll keep it in the show."
Her attitude was surprisingly lighthearted, considering the massive financial commitment her new show has made. But she seemed unfazed.
"I've never thought about the numbers," she said. "I'm totally disconnected from that. I'm lucky that I've got this luxury."
But even recording stars that have toured the world and sold millions of records face the same challenges as performers around the globe.
Several years back it was reported that Dion suffered from nodules on her throat that she had to have removed. She's a strong belter, and singers know that a flawless technique is a belter's only safeguard against vocal disaster.
Dion is confident that her voice will endure five shows per week, 40 weeks a year. She doesn't worry about fulfilling her three year contract, either. She said that her show is much easier at Caesar's because she doesn't have to endure the travel she used to. She's thrilled to be able to stay put. She said, "I want stability for my family."
She said she had a sinus infection last month, which caused a sore throat and some fluid to build up in her ears, but she's better now. Now that she's married with a young son, she's not as worried about her vocal chords.
"I used to hang onto my voice. Not anymore. I have a life now," she said. In fact, she said that her ultra-short haircut is to save her time so she can focus on more important things like family and her show.
And just because she's got stability, it doesn't mean that she's not up for a challenge. "I wanted to try new things. When I fly [up to the grids], I feel the audience going with me."
She also acknowledges how lucky she is to have her own show and theatre in the most opulent and decadent of cities. "It's a very big chance and it isn't given to a lot of people."
And the theatre itself is something to behold. More than 4,000 seats and three mezzanines house the spectacular stage. Not only is the generically Roman-themed venue (designed with consistency for Caesar's Palace owner Park Place Entertainment) huge, it's built with amazing acoustic consideration, as large sound pillows hang from the ceiling to even out the sound. The stage has special humidifiers to keep Dion's throat moist in the middle of the desert dryness.
Dion worked with renowned director Franco Dragone of Cirque du Soleil notoriety. (Note that Caesar's Palace, Dion and Dragone all stress that hers is NOT a Cirque du Soleil, which is now under exclusive contract in Las Vegas with MGM/Mirage.) Dragone said that it is always his goal to keep the show as fresh as possible.
"A show has to progress each night," he said. "It must be a new experience every night to be alive."
There was some concern that he would face a daunting challenge to make the show different than Mystere and O, the two Cirque du Soleil shows he's directed in Las Vegas. After all, Dion said that seeing O was the inspiration for putting her show together and what made her believe that Dragone was the only she could possibly have direct it.
Dragone said, "Every show I do, I try to make it different."
And with a cast of 48 dancers from all over the United States and abroad, Dragone and choreographer Mia Michaels have a lot of talent to work with to achieve that goal.
As for Dion, she said that her life in Las Vegas is a dream that's manifested itself into a wonderful reality.
She said, "I'll take it one show at a time, one song at a time, one moment at a time and one emotion at a time."