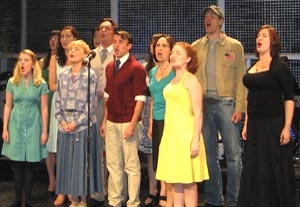 "I call it 'bungee theater,'" said Jenn Colella. "It's constantly in progress and changing."
Colella took time out of the remarkably short rehearsal period for the new musical drama "All Things Fall" to perform at a press conference and preview kicking off the sixth installment of New York Musical Theatre Festival yesterday. Ensembles from nine of this year's 30 new shows performed at New World Stages, the theater currently occupied "Altar Boyz," just one of many festival alums to go on to commercial production.
Broadway veterans dusted the rows of the theater, forming palpably enthusiastic clusters of the nine casts. Michael Holland, co-writer of one of the festival's most ambitious projects, "Hurricane," noted that their cast of 30 was wholly invested in the piece and in doing the work to make the musical thrive. "It's so flattering to us as writers that they're so into it," he said. "They came right in and had done the research into the period and the material and are so lively and dedicated to rehearsing and developing their roles.".
In many ways, "Hurricane" embodies the purpose of the NYMF, according to executive director and producer Isaac Robert Hurwitz. He explained that the festival aims to give opportunities to take risks that, for financial or logistical reasons, could otherwise be impossible, saying, "I don't know where a show of that size and ambition could get on its feet but here. We are thrilled to present the show—if you don't take the chance, then you never know."
Over the last four years, the NYMF has extended its mission and risk-taking spirit with the dance drama competition program, which this year includes the ambitious "Andy Warhol Was Right." Combining dance, images, and film, the production aims to capture Warhol's world and translate that world and relate it to modern existence. Shea Sullivan, one of the three choreographers on the project, reflected, "[Warhol] was so visual—it's a lot to take on and explore on the stage, but that's part of what makes it so interesting to work on and to watch."
Even some of the "safer" choices take risks and, from the preview performances, appear to soar. Though Hurwitz introduced "The Cure" by saying, "What's hotter this year than vampires?" star Michael Buchanan countered "I think the show is a bit more…biting than the 'Twilight' thing." Ann Harada, of "Avenue Q" fame, also thrilled at the surprising depth of her new show, "Judas & Me," which tells the tale of neighbors Judas and Jesus as the child of "the ultimate biblical stage mom" navigates being the best friend and neighbor of the Messiah. "It's hilarious and brilliantly written," Harada said. "The whole take is so skewed and kind of irreverent, but it ends up being touching and really has a great message, and I those are the kinds of shows I love to do."
In six years, the New York Musical Theatre Festival has premiered over 175 musicals, of which approximately a quarter have gone on to fully staged productions. "It's a wonderful thing to promote such talent and creativity," said Tony Award-winner and host Donna McKechnie. "It's just a fabulous experience to take part in." Based on the preview and talented casts, this year's productions promise to be a great experience for audiences as well.