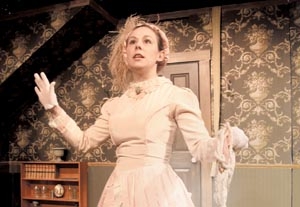 Mikaela Feely-Lehmann has her acting school to thank for her first professional job, her Equity card, and her agent.
As a recent alumnus of Atlantic Acting School—which was part of her training at New York University—Feely-Lehmann was asked to audition for Moira Buffini's "Gabriel," presented by the Atlantic Theater Company. Though she didn't initially land a part, she was hired to understudy two roles when the show's run was extended, and she secured her Equity card as a result. From there, the Atlantic invited her to do a reading of David Auburn's adaptation of "The New York Idea," and she was later cast in the full production.
"I really owe the Atlantic everything," says Feely-Lehmann, who secured her representation through the show. "My whole world just opened up."
Origin of a Theater
The Atlantic Acting School is one of many training programs in New York affiliated with a professionally producing theater company. The Stella Adler Studio of Acting produces three shows a year through the Harold Clurman Laboratory Theater Company, which has been active since 2002, and also produces with the Harold Clurman Center for New Works in Movement and Dance Theatre. In October 2011, the studio staged its first Off-Broadway show, "Lebensraum," which began as a lab piece and featured two former students. "We've been champing at the bit to build this theater company and present ourselves to the bigger community for some time," says the studio's artistic director, Tom Oppenheim.
The T. Schreiber Studio has been producing Off-Off-Broadway work since its establishment in 1969, and the school's founder, Terry Schreiber, says performing in full-fledged productions is an invaluable component of the students' education.
"It's been my goal since I started that actors not only have a professional training environment but that they get a chance to do work besides just scenes in class," explains Schreiber, who just released his e-book "Producing on a Short Shoelace," about his years of producing OOB theater. "It's absolutely vital that these actors be given a chance to do a performance in front of an audience."
In the Atlantic's case, the school came first when founders David Mamet and William H. Macy decided to teach a new acting method to 25 NYU students. Once those students graduated, however, Mamet and Macy encouraged them to keep presenting their own work, which became the foundation for the Atlantic Theater Company.
"The only reason to go to school is to start working, and the theater company became an extension of that for us," says Mary McCann, the school's executive director and a founding company member. "One part of our mission at the school continues to be for students to create their own work."
Part of the school's curriculum includes having the students start their own theater company McCann cites Pipeline Theatre Company and the comedy troupe Harvard Sailing Team as two examples of successful groups that came out of the program.
For Feely-Lehmann, attending a school attached to a working theater seemed like a great way to connect to the larger community.
"If I wanted to dive into the fray of the theater scene in New York, that was the way to do it," she says. Feely-Lehmann most recently appeared in "10 x 25," Atlantic's festival of short plays, and she added that returning to her alma mater as a working actor is a huge blessing. "All the anxiety that could be associated with doing your first few professional productions is taken away. It's just like going home."
To Study or to Perform?
However, each studio has a different policy on casting its students. Schreiber casts exclusively from current students and alumni, while the Atlantic and Stella Adler take different approaches.
"We want it to be a graduate program," says J. Steven White, company manager of the Harold Clurman lab. The lab theater casts from alumni and outside performers. "It's not that we're trying to be mean to the students. We want to be respectful of their training time."
Aidan Koehler, an alum of the studio who appeared in "Lebensraum" and whom White considers a company member, is glad she wasn't involved in productions while in school.
"I don't think I was ready," reflects Koehler, who graduated in 2005 from NYU. (NYU is affiliated with a total of seven studios, including the Stella Adler Studio of Acting and Atlantic Acting School.) She suggests that students can be overly self-conscious in their performances, as they're constantly thinking about the techniques they're learning and seeking their teachers' approval.
The Atlantic occasionally uses its students when one of its main-stage productions calls for a young actor but doesn't exclude anyone when casting its shows.
"We look to the students first when we're casting young roles," McCann says, adding that she thinks it's a big secret that the Atlantic can launch a student's career. In three plays last year, the Atlantic turned six students and recent alumni Equity. "We believe in the training, and we believe in the students, and we genuinely really want to work with them."
But bringing students into the union can sometimes interfere with their ability to perform in school shows. When Brian Johnson, then a third-year student, was cast in the Atlantic's "Spring Awakening," the studio negotiated with NYU so Johnson's work on the later Broadway-bound show counted toward his graduation credits. "We're able to work it out on a case-by-case basis," McCann explains.
The Atlantic also puts on two professional children's shows a year that are cast exclusively from alumni.
"There was always a sense that if you wanted to be involved, you could be involved," Feely-Lehmann says. "But they encouraged you to study and work on becoming an actor in your own right."
To prevent actors from coming to his studio just to audition for the productions, Schreiber requires students to matriculate for at least three months before they may try out. "It's unfair to the people that have been studying here if someone comes in and gets cast and then just blows out right after the production," he says.
Student Noelle P. Wilson says she didn't pursue the T. Schreiber Studio for the opportunity to perform. Wilson has studied with the school on and off since 2003, and she appeared in the 2011 production of "You Never Can Tell." Though she wasn't seeking performance opportunities at the studio, she appreciates the school's collective mindset.
"When you go into the workforce, you're going to have to work with people who you don't necessarily agree with or don't get along with," Wilson says. "Going into a show where we all have similar processes, it's kind of like a gift from the gods."