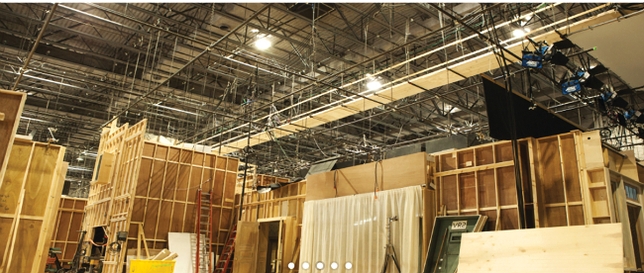 Coming to a prison near you! Broadway Stages, the Brooklyn-based film, television, and music production house, has locked up Hollywood on Staten Island and thrown away the key. The media facility, which already has 27 sound stages within the New York City boroughs, has purchased the former Arthur Kill Correctional Facility on Staten Island's west shore—which closed in December 2011 after a drop in prison populations—for a cool $7 million. Stages has plans to turn the prison into a 69-acre moviemaking mecca with five state-of-the-art sound stages designed to bring in the industry's top filmmakers.
"Welcome to Hollywood East," said Republican state Sen. Andrew Lanza, who helped land the deal. "I'll take a film studio over a prison any day."
This reinvestment in defunct properties, plus the $400 million in tax revenue generated by the film and television production industry, shows the positive effect entertainment has had on the New York economy. Throw in a 30 percent tax credit (that trumps California's 20–25 percent, and competes with up-and-coming film production states like Louisiana and Georgia), and it's no wonder in-state production has been on the rise.
In 2012, the Motion Picture Association of America released a study that showed a nearly 25 percent increase in New York state film industry employment between 2008 and 2011. A Made in NY 2013 report stated: "TV production grew by nearly 82 percent, driving most of the sector growth with dramas, reality and talk shows."
The Arthur Kill project can only help grow those numbers as we move further into 2014. The prison-to-studio conversion—expected to begin as early as this summer, depending on the Department of Buildings permit process—is projected to bring up to 1,500 well-paid industry jobs over the next five years, which is welcome news in a recovering economy.
The possibility of this movie studio adds an extra 341,000 square feet of space—divvied up between 43 buildings—to Stages' current studios, where the likes of HBO, CBS, Warner Bros. and Universal Studios, and shows like "The Good Wife," "Blue Bloods," "Smash," and the upcoming Alfonso Cuarón–created "Believe" on NBC, are housed. The expansion would also add some stiff competition for major NYC film studios like Queens' Kaufman Astoria and Silvercup, and Steiner Studios in Brooklyn.
In a statement, Broadway Stages President Gina Argento, who owns the company with her brother, Tony Argento, said they expect to make a portion of the facility available for use within six months of sealing the deal that has yet to be publicly approved and negotiated. They've projected a two-year completion following the initial, partial opening.
Want more acting tips? Watch below:
Inspired by this post? Check out our audition listings!