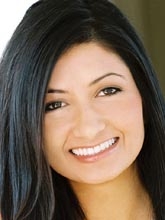 Awash in bright lights, dotted with mannequins, and featuring long lines of customers winding around the cashiers, H&M is the No. 1 place for clothes that are trendy but with low to moderate price tags.
Jessica Minhas says H&M's clothes "are right on the tip of fashion. They're affordable, cheap, and easy. There's something new there each week, but never at the high end. You can stay abreast with current fashion trends without spending a lot. Also, there are so many locations." Ashley Hedrick says that in addition to its great selection of basics, the store has lots of accessories to choose from, all within the price range of a struggling actor. "They're well-made and nothing looks cheap," she says. "The store also displays clothes by guest designers from time to time."
A word of caution, however, is offered by Kacie Leblong: "You have to keep in mind that clothes should be tried on before they're purchased. Not everything is going to work, but when it does, it may be just right."
After H&M, Barneys had the most votes. It's more high-end than H&M, but that may be what you need for an important audition or a night on the town. "The salespeople are very attentive," says Tiffany Melina. "The clothes are beautiful and expensive. But you get what you pay for."
H&M (main store), 640 Fifth Ave., NYC; (212) 643-6955; www.hm.com.
Runner up:
Barneys (main store), 600 Madison Ave., NYC; (212) 826-8900; www.barneys.com.
— Simi Horwitz