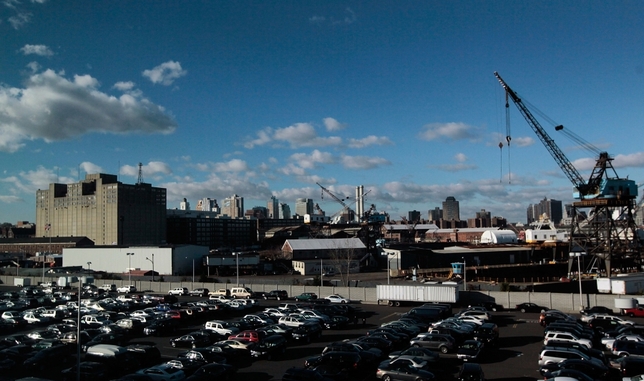 As film and television production in New York City continues to grow at a record pace, so too do opportunities for local students aiming for careers in the industry.

The city of New York will invest $6.7 million in Brooklyn College's new Graduate School of Cinema, Brooklyn College and the Mayor's Office of Media & Entertainment announced at the Brooklyn Chamber of Commerce's Winter Gala Dec. 20. The school will be built in the Brooklyn Navy Yard at Steiner Studios, the East Coast's largest soundstage and production facility that has been home to film and television productions including "Boardwalk Empire," "Girls," "Damages," "Sex and the City," and many more.

Through the Mayor's Office, the city will support the creation and development of what backers are calling "the only graduate school of cinema in the country to be integrated into a working film lot." The school will be open in time to welcome its first class in the fall of 2014.

"With this announcement, Brooklyn solidifies its place as the world capital for arts, culture and digital media," Douglas C. Steiner, chairman of Steiner Studios, said in a statement. "Students at the Brooklyn College Graduate School of Cinema will have the opposite of the ivory tower educational experience. They will instead be trained for this industry while surrounded by some of the most innovative artists, craftspeople, and talent working right here on our lot. We are thrilled to further empower the creative class in Brooklyn."

The Brooklyn College Graduate School of Cinema expects to enroll up to 400 students each year and will offer Master of Fine Arts programs focused on the art and craft of cinema including cinematography, directing, production and post-production, screenwriting, and visual effects, as well as a Master of Arts in cinema studies. According to Brooklyn College and the Mayor's Office, "Tuition is expected to cost less than half of most graduate film programs in the U.S." The Mayor's Office of Media & Entertainment will contribute to the creation, planning, and funding of the school's Digital Media Center, and will donate to a scholarship fund established by Brooklyn College.

"The Mayor's Office of Media & Entertainment is very proud to be working with Brooklyn College and Steiner Studios as we develop this innovative graduate school of cinema," Commissioner Katherine Oliver said in a statement. "This is a thriving sector of our economy, and our office has been committed to educating New Yorkers about the vast array of career opportunities available in the film, television, and digital media fields. Helping to establish this unique educational program right here in Brooklyn will be a lasting testament to our local creative industry."

According to the Mayor's Office, the entertainment industry employs more than 130,000 New Yorkers and contributed approximately $7.1 billion to the local economy last year.

Steiner Studios, which opened in 2004, built five new sound stages earlier this year and now boasts a total of 10 stages on its 20-acre lot and 355,000 square feet of space, which also includes editing suites, mill shops, and prop storage. In August, Steiner and the Brooklyn Navy Yard Development Corporation reached an agreement to create a 50-acre media campus on the property. The plan would effectively double Steiner's space and is estimated to add about 6,000 jobs for New Yorkers when the project is completed, which could take more than a decade.