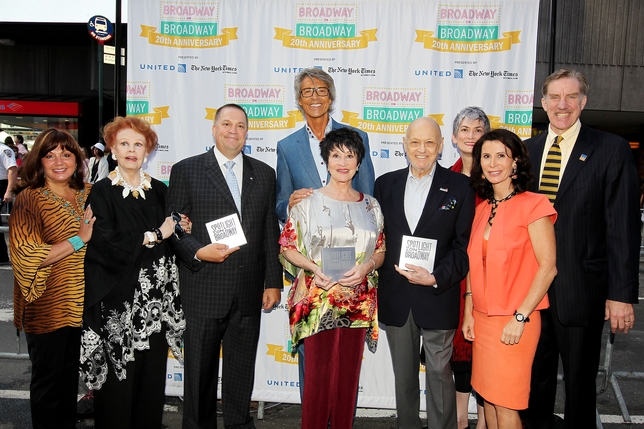 The most ephemeral of the arts is about to be preserved online for future generations. Last week the New York City Mayor's Office of Media and Entertainment, in partnership with the Broadway League, launched SpotlightonBroadway.com to highlight the illustrious history of Broadway and its iconic theaters. Both organizations point out the project not only brings to life Broadway's past but marks a plan to expand the digital offerings available to theatergoers and draw attention to the myriad professions that fall under the theater umbrella.
"The theater community is very important to our city. The [website] is a great vehicle to show the history of Broadway and its cultural legacy," MoME Commissioner Katherine Oliver told Backstage. She added that Broadway contributes $11 billion to the local economy and supports 86,000 jobs.
Broadway League Executive Director Charlotte St. Martin noted that in the middle of one of the worst economic periods in U.S. history, Broadway has broken box office records in five of the last six years. "I love movies, but there isn't that physical connection," she told Backstage. "That is what Broadway delivers."
The website features a collection of five video documentaries, including five-minute portraits of the Booth, Al Hirschfeld, Richard Rodgers, and August Wilson theaters. Each short incorporates a variety of commentators, from actors to electricians to theater historians.
"One thing that struck me was the Al Hirschfeld Theatre," said Oliver. "It has some of the most incredible stained-glass doors [inside the theater], but you don't necessarily see them when you are walking to your seat." The doors were pointed out by actor Brian Stokes Mitchell, who asked that the cameras capture what he sees from the stage.
The overall project is also tasked with recognizing individuals who contribute to the theater world both on and off the stage. On the same day as the launch, the inaugural Spotlight Awards were given to individuals who have made significant contributions to the Broadway community in the last 10 years. Spotlight Award winners included director-choreographer Tommy Tune, composer Charles Strouse, Actors Equity president Nick Wyman, Broadway producer and manager Nina Lannan, and IATSE president Matthew Loeb.
Noting that he was "honored" to accept the award on behalf of Equity's membership, Wyman recalled the active role that the actors' union has taken in Broadway preservation over the years. "In the 1980s Equity took a leadership role and helped found Save the Theaters Inc. to preserve the Broadway theaters for future generations," Wyman said. "This award and the Spotlight on Broadway project are wonderful acknowledgments of the efforts made by Equity and its sister unions."
MoME and the Broadway League hope to launch the full version of the website, including 40 video portraits of theaters in the district, by fall of 2013. Oliver said she hopes to update the website not only with videos but with oral histories and film contributions from the public.