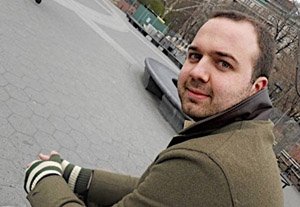 Lots of young writers spin fictional stories from real worlds they know. But not too many have the experience to tell the tale of a juvenile who's committed murder. J. Sebastian Fabal's stepfather, however, was one of the lawyers who fought to get the juvenile death penalty overturned by the U.S. Supreme Court. "Growing up, I've actually had dinner with three separate juvenile murderers," says the composer and lyricist of "The Tenth Floor," one of 27 new tuners receiving full productions at the 2010 New York Musical Theatre Festival. The seven-year-old festival is devoted to developing and producing new works.
The story of a teenage inmate in Miami who struggles with his violent past and precarious future, "The Tenth Floor" began life as a thesis project for Fabal and his collaborator, book writer Sara Cooper, when they were students in NYU's Graduate Musical Theatre Writing Program. They've been writing and revising the musical, which mixes rock, hip-hop, and salsa, over the last two years, and they submitted it to NYMF because "the show was so physical that we thought another workshop reading behind music stands would not be beneficial," says Fabal, whose day job is with the Rodgers & Hammerstein Organization. 
"The Tenth Floor" is one of 12 shows in the festival being presented through its Next Link Project, which helps writers move forward with their musicals by providing them with a dramaturge, networking opportunities, producing funds, and other support. Cooper and Fabal's director for this six-performance run is Igor Goldin, who staged last season's acclaimed Off-Broadway production of "Yank!" (a show that played NYMF in 2005), and the cast includes Farah Alvin, a Drama Desk nominee for "The Marvelous Wonderettes." "What we ultimately want is another production," says Fabal, "to find a home for this show." 
Future productions are the most sought-after goal for NYMF's participants. But while a handful of musicals that premiered at NYMF have been catapulted to Off-Broadway and even Broadway—"Altar Boyz," "[title of show]," "Next to Normal"—producing a show at the festival remains a risky and costly undertaking. Still, Isaac Robert Hurwitz, one of NYMF's founders and its executive director and producer, hopes to see participants enriched in some way. 
"My goal is never for people to invest all their talent and money into putting a show up for six performances and nothing good beyond those six performances comes of it," he says. "Whether it's additional production opportunities for the show or a chance to get hired for a different project or to meet new collaborators, we're always looking to add to the outcome for the artists who participate, to make sure it's an effective engine for them as much as it is for the shows." 
The 12 shows that come to NYMF annually through the Next Link Project are selected by a jury of industry professionals—this year from 400 submissions—and the remaining 15 to 18 shows are brought in by producers and artists known to the festival. Among them are "Special Letter," a mistaken-identity love story with a military backdrop, which is part of NYMF's exchange program with the Daegu International Musical Festival in South Korea (it's performed in Korean with English supertitles), and works by musical theater actors of note such as Anthony Rapp ("Without You") and Chip Zien ("The History of War").   
VETS BRAVE THE 'UNKNOWN'
But Next Link isn't just for musical theater newbies. Broadway veterans William Hauptman ("Big River") and Jim Wann ("Pump Boys and Dinettes") are bringing "The Great Unknown" to NYMF through the program. The show is based on the story of one-armed explorer John Wesley Powell, who led an expedition of fellow Civil War veterans down the Colorado River to the Grand Canyon. Tom Hewitt stars as Powell. 
"It's about veterans who are trying to move on from an extremely difficult war," says Wann, the show's composer and lyricist. "A lot of soldiers come home and feel they have to go somewhere else to establish their identity. The western migration was fueled by people like that. We have that in play in our society now." If "The Great Unknown" has a successful life post-NYMF, he adds, "it would be nice to see some of that money go to a veterans organization." 
But for now, Wann and Hauptman are putting their own money into the production, which incorporates bluegrass, country, folk, and environmental elements. They're also reaching out to a lot of friends. Though NYMF productions tend to be minimal in design and staging, the budget for "The Great Unknown" is $50,000. But Wann says it's worth the opportunity and exposure. "We had been doing a lot of rewriting over the years," he explains, "and we needed to collaborate on a production. One of the appealing things was they offered the opportunity to jump in right away. The application was due in February, and we were notified in April or May."  
TRIPLE CHALLENGE
Jay Alan Zimmerman's road to NYMF was a tad bumpier. Just as the deadline for this year's festival was approaching, he was expanding his short one-person show, based on his real-life struggle with progressive hearing loss, into a full-length, multicharacter musical, "Jay Alan Zimmerman's Incredibly Deaf Musical," which incorporates genres from opera to rap. "I discovered a whole new frame for the story, splintered myself into multiple characters and timelines, and started writing a new book and adding songs," Zimmerman says via email. "I put together a reading of half of it, but the NYMF deadline was the week before, so I thought maybe next year. Then they emailed and said if you pay by Sunday, you get one more week. I begged all my actor friends to record new songs and frantically uploaded them Friday night until the midnight deadline." 
Zimmerman, who's one of several festival participants doing triple duty by writing book, music, and lyrics, says composing is a challenge due to his hearing loss, but he's still able to hear sounds: "I'm labeled 'profoundly deaf' because I can't hear speech anymore, but luckily, music is louder and lower in pitch than speech. So I still have one octave below middle C that is fairly clear. But everything else required for a musical—lyrics, book, stories, visuals, even rhythm—can be created without good hearing. If those things suck, I have no excuse." 
Another triple threat is 23-year-old Alex Wyse, whose NYMF contribution is "Nighttime Traffic," a musical he's been working on for four and a half years, since his student days at Boston University. The show—about a young man who's able to slow time while his boyfriend is in a hospital awaiting a heart transplant—wasn't accepted by the festival last year, but Wyse took part in NYMF as an actor and was invited to bring his show to this year's festival. Now that rehearsals are under way, he says (after an 18-hour day and three hours of sleep), the process has eased his qualms about putting his work in front of audiences and critics at this stage: "It's not me sitting at my computer at 3 in the morning anymore. I'm in a room with people who care, so now it's become the most joyous experience, because it's finally collaborative." 
That's a part of the process that the authors seem to enjoy, despite the grueling work. Says Fabal, "Between things that are due and finding all the members for your team, putting a man on the moon might be easier than writing a musical." But if a writer can survive such an intense, condensed process, maybe the sky's the limit.   
 
The New York Musical Theatre Festival runs Sept. 27–Oct. 17 at various locations in Manhattan. For tickets and more information, go to www.nymf.org.
Contract Controversy
NYMF found itself at the center of a controversy a few months ago over a change in its contract, asking for subsidiary rights of 2 percent of the applicant and author's gross "on all income received from the play in excess of $20,000 over 10 years." The clause was excised from this year's contract after the Dramatists Guild advised its members not to sign it, in part because of the amount of money that applicants had to pay to take part in the festival.
 Isaac Robert Hurwitz, one of NYMF's founders and its executive director and producer, acknowledges that the contract changes slightly each year and that the issue could come up again. "I'm not going to say that this is something we will never ask for…. For the time being, we're not taking it," he says. "Every year, we have a real short-term budget crisis. The writers are the No. 1 beneficiaries of what happens at NYMF, so I hope they will join in supporting the festival. We don't want to make it difficult for them to make a living. It's not ultimately a question of NYMF being greedy. We've created a platform that requires additional support. It would cost several times as much without us for these artists whose work is not being produced anywhere else." 
  When asked to comment, Ralph Sevush, the Dramatists Guild's executive director for business affairs, referred Back Stage to a column on the controversy that he has written for the next issue of the guild's magazine. In it, Sevush defends the guild's position and concludes, "Rest assured, the guild will not back off; in fact, we will push this issue further and harder than we ever have before. Because writers not only deserve to make a killing, they deserve to make a living."