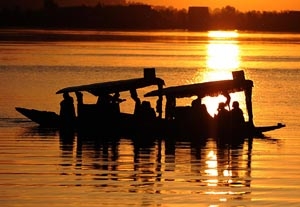 Musa Syeed received a $100,000 grant from the Sloan Foundation toward the cost of an original narrative film production. A recent graduate of New York University's Tisch School of the Arts, Syeed's reward is part the Foundation's screenwriting and production grants started in 1996 for plays and movies that challenge "existing stereotypes" of scientists and engineers. Similar grants are offered in conjunction with Manhattan's Ensemble Studio Theatre, which routinely presents science-themed plays.
A graduate of the Kanbar Institute of Film and Television at NYU's Tisch School, Syeed's movie
Providence
is the story of a poor Kashmiri boat driver and an American scientist who discover the sources of pollution in Kashmir's main lake.
The New York-based Sloan Foundation focuses on science, technology, economics, and mathematics. The Foundation's public understanding initiative focuses on a broad audience including film, television, theater, books, and radio. The foundation helped develop such recent films as
The Diving Bell and the Butterfly
  and
Sleep Dealer
.
The foundation's arts initiative is part of a larger effort to fund science and technology in fields such as species discovery and monitoring active galaxies. The foundation was created in 1934 to advance "quality of life" through science.