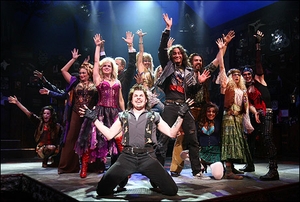 Donating to charity gives you personal satisfaction, but what if it also gave you a chance to appear on Broadway?
Starting on Wednesday, anyone can visit Omaze.com and make a minimum $10 donation to The Young Storytellers Foundation; all donators will be entered to win the opportunity to appear onstage with the cast of Broadway's "Rock of Ages." Founded in 2011, Omaze offers users the chance to have once-in-a-lifetime experiences, at the price of a small donation to a social cause.
Omaze is accepting donations to The Young Storytellers Foundation through Oct. 26. The winner, randomly selected from the pool of donators, will be announced in early November. In January, the winner and a friend will get to travel to New York City, where the winner will don 80s rockstar gear and join the cast of "Rock of Ages" in singing the show's finale, "Don't Stop Believin'." The winner's friend will get a prime balcony seat to watch the performance.
The Young Storytellers Foundation is a Los Angeles-based charity that works to increase arts education programs in LA public schools. They find public schools that are unable to finance arts curricula, and provide them with professional writing coaches for the students. Through this mentorship, students learn to write their own dramatic works.
Every five entries to Omaze's "Rock of Ages" experience will provide one student with arts mentorship. To enter, visit Omaze.com.