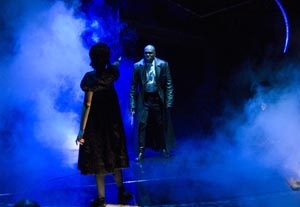 The letters go out July 13. Every actor interested in a role for Oregon Shakespeare Festival's 2010 season will be haunting a mailbox or two. Yes, even the longtime vets are not assured work, let alone a leading role, in the February-through-October repertory season.
OSF, nearing its 75th birthday, offers LORT B+ contracts to about 100 actors per season. The actors will play more than 780 performances that sell out to the tune of 400,000 tickets. And the fest is located in the charming town of Ashland, which gently clings to the Siskiyou Mountains, offering a quiet but sophisticated lifestyle—and some of the savviest audiences around.
So what does it take to make the grade there? Christopher Acebo, associate artistic director at OSF, casts from generals he attends in Chicago, New York, and Los Angeles. He'll also attend theater in those cities for further scouting. He is looking for "gifted, transformational actors," he says—for example, someone who can play Beatrice in the afternoon and a witch that night.
Acebo may be better known to West Coast actors as a scenic designer, with credits at Berkeley Rep, La Jolla Playhouse, South Coast Rep, and the Mark Taper Forum. But his decade-long work with director Bill Rauch, currently OSF's artistic director, means Acebo is concurrently deeply involved in casting. "We've always talked about what should the cast be for any play," says Acebo. "He's such a collaborative artist. He's one of those people who asks everybody in the room for their opinions, and the best solutions win." Among the other artists involved in casting are Scott Kaiser, director of company development, and Jacob Padrón, OSF associate producer.
In addition, of course, directors of the individual plays are consulted, but the entire season must be kept in mind so actors can be shared among productions. Seasons average 90–108 actors to cover the 11 plays in repertory. For the 2009 season, 108 actors were cast. Each OSF actor is contracted to be onstage and to understudy. The festival offers six-month, eight-month, and 10-month contracts, depending on the roles and where they fall in the calendar.
Each year, Acebo starts his process with the list of plays for the season under consideration. He'll probably begin casting from among actors already working at OSF. Then he'll check a list he has maintained over the years of "actors we are excited about" to see if he can find roles for them.
Once the festival makes its offers July 13, each actor has until July 23 to accept or decline the contract. Rauch and his team re-evaluate the casting needs and then set up further auditions. Acebo may return to L.A. or New York, even throughout the fall, to complete casting.
Looks Not With the Eyes
Let's say you land an audition with him. He'll ask you to do a Shakespeare monologue and a contemporary monologue. Because OSF is moving into more music-oriented work—plays with songs or even musical theater—he'll ask for 16 bars. He may also ask you for a contrasting Shakespeare monologue, so don't get caught short. "Anything I can glean from how they read, how they speak, how they interpret Shakespeare, is the crucial part of the auditions," he says. And don't become discouraged if you're asked for that second monologue. "It could be either this person is terrific, I want to see more, or I'm not sure that role is right for them, so their other monologue might be a better choice for them." Sometimes he'll give adjustments, watching how well they're made.
Acebo has a few specific words of advice, should you be auditioning for OSF. First, select a monologue that's age-appropriate. Next, don't deliver the Shakespeare monologue with an RP accent. If you do, he'll ask you to adjust. And, he reminds you, don't use high-class speech for low-class characters. Then, he says, "I think clarity, just coming into the room and trying to be as clearly yourself as you can possibly be, is helpful to me. Also, connecting to the work honestly is really important." And because OSF comprises three very diverse spaces—an intimate space, a 600-seat indoor theater, and a 1,200-seat outdoor theater—and because OSF uses no miking whatsoever, you must have a strong, clear voice.
Not in Their Stars but in Yourself
In examining your résumé, Acebo will look at whom you've worked with and where you've been working. "One thing we have to take into consideration when we hire actors at OSF," he says, "it's a long contract, six to 10 months of your life to come to Southern Oregon. It's a beautiful place to work and we have unbelievable audiences who are dedicated to coming here and the caliber of the artist who works here is exceptional, but you're in a small town for a good part of the year.
So it's not just an actor who has great talent; it's someone who wants to be in this environment. So we look for actors who have that desire: to be a part of a company. Looking at a résumé, that usually has somewhat of an indication of that." If he sees on the résumé someone he's worked with, he'll contact that person to ask if you'd be a fit, not only in terms of talent but also whether you've got a company spirit.
Acebo isn't quite ready to reveal plans for the 2011 season, but he notes that while OSF remains committed to at least four Shakespeare plays per season, Rauch and company "are hugely invested in bringing different perspectives: plays by artists of color, plays that represent more of a global view, not just the Western canon." Those interested in applying for the open slots should send a headshot and résumé to Arbusto/Dixon Casting, P.O. Box 27668, Los Angeles, CA 90027.
For those actors lucky enough to get that letter in the mail July 13, we can't wait to see your performances. And for those who are now free to apply to OSF for the remaining roles, Godspeed, and may the above advice help you land your new gig in beautiful Ashland.
For information on auditioning, visit www
.
osfashland
.
org
/
about/work/acting
.
aspx
.