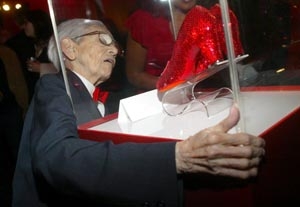 LOS ANGELES (Reuters) – Mickey Carroll, one of the last surviving diminutive "Munchkins" in the 1939 movie "The Wizard of Oz," died of natural causes on Thursday in Missouri at age 89, a newspaper reported.
Carroll, who stopped growing at a young age, was an entertainer early in life and befriended actress Judy Garland, leading to a role alongside her in classic "The Wizard of Oz," the St. Louis Post-Dispatch reported.
He was a violin-playing Munchkin "Town Crier" in the movie, dressed in purple with a yellow flower in his vest. There were dozens of Munchkins in all.
In 2007, Carroll and a few other surviving Munchkins attended a ceremony to dedicate a Munchkin star on the Hollywood Walk of Fame.
Born to Italian immigrants in 1919, Carroll's given name was Michael Finocchiaro, the Post-Dispatch reported. He died at a caretaker's home in Crestwood, Missouri, and he lived in the state nearly his entire life, the newspaper said.
(Reporting by Alex Dobuzinskis: Editing by Bob Tourtellotte)
---
COPYRIGHT: (c) Reuters 2009. All rights reserved. Republication or redistribution of Reuters content, including by caching, framing or similar means, is expressly prohibited without the prior written consent of Reuters. Reuters and the Reuters sphere logo are registered trademarks and trademarks of the Reuters group of companies around the world.