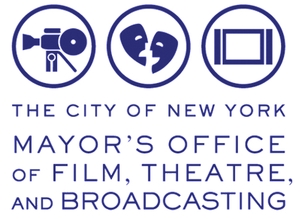 A week after Hurricane Sandy tore its path of destruction through the northeast, New York City's film and television industry is getting back to work. Effective today, the Mayor's Office of Film, Theatre and Broadcasting has begun issuing outdoor filming permits for the many productions that use the city streets as their stages.

While officials continue to evaluate the damage and aid in recovery efforts, however, permits for exterior locations are currently being issued on a case-by-case basis only, and some areas still remain off limits. According to the Mayor's Office of Film, Theatre and Broadcasting, "Any filming requests below 14th Street in Manhattan will be evaluated on a case-by-case basis. All other locations in Manhattan can be permitted." Permits will not be issued in Staten Island, City Island, Coney Island, Red Hook, the Rockaways, Breezy Point, and other severely affected areas in evacuation Zone A at this time.

Outdoor production was halted temporarily last week and permits were revoked or suspended in all five boroughs in advance of the storm. "Law & Order: SVU," "Smash," and "666 Park Avenue" (which reportedly suffered severe damage to its sets) were among the television series forced to pause production in Sandy's wake. But about a dozen shows, including "30 Rock," "Elementary," "The Good Wife," and "Blue Bloods," were able to resume filming on indoor soundstages, such as Brooklyn's Steiner Studios and Broadway Stages, as early as last Wednesday, Oct. 31.

"The City's first priority right now is helping all New Yorkers recover in the aftermath of the storm. As the City continues to get back on its feet, we are encouraging productions to film in those areas throughout the five boroughs that were not as badly affected by the storm," the Mayor's Office said in a statement Nov. 2, while announcing that permits for exterior locations would resume on a "case-by-case basis" beginning Nov. 5. Officials added, "New York crews are known for their 'can do' attitudes, and the City offers a wealth of location options for productions. We're confident that the TV shows and feature films that call New York City home will take this temporary adjustment in stride."

From Nov. 5 through Nov. 7, parking for any productions utilizing exterior locations throughout the city will be "as available." Productions will be allowed to reserve parking in permitted areas beginning Thursday, Nov. 8, but there will be no assistance from the vehicle towing unit or traffic agents until further notice. The NYPD Movie/TV Unit will be made available to productions.

Requests for filming locations should be submitted as soon as possible. Productions should continue to check www.nyc.gov/film or follow @MadeinNY on Twitter for updates.

The Mayor's Office of Film, Theatre and Broadcasting will be closed Tuesday, Nov. 6, for Election Day.