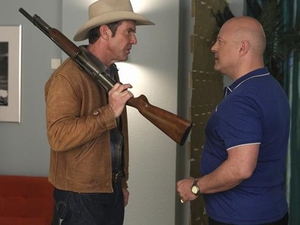 Don't expect to see drama unfolding on the streets of Los Angeles this fall—at least not the scripted kind.
Next season's slate of network dramas includes only two new series that will be filming in the L.A. area. Other than ABC's "Mistresses" and CBS's "Vegas," the rest of the 19 new network dramas will be shot elsewhere, according to a tally by FilmL.A, a not-for-profit that coordinates permitting for local productions.
New York, for instance, will play host to eight new network dramas that'll soon be in production. Many of these shows are New York-themed, such as CBS's "Made In Jersey," which features a "streetwise" lawyer from the Garden State who lands a job at a Manhattan law firm, and ABC's "666 Park Avenue," which follows a couple who move into an Upper East Side building where sinister supernatural mysteries abound. But as CBS's "CSI: NY" has proved, a series doesn't need to be shot in New York to be set there.
Five new dramas, four from The CW along with ABC's "Red Widow," have opted to shoot in Canada and six others will begin filming at locations from Hawaii to North Carolina. Some of these series are closely affiliated with their shooting location. For instance, ABC's musical drama "Nashville," about two country singers at different points in their careers, will be shot in Tennessee. And Fox's "Mob Doctor," which features a surgeon indebted to the Chicago mafia, will be shot in Chicago.
The flight of drama production from Los Angeles has much to do with the tax incentives other states offer, according to Philip Sokoloski, a spokesman for FilmL.A. Pilots are often lured to locations such as New York or North Carolina by tax incentives because producers know the money they save can be plowed back into production values, which enhances the pilot's chances of getting picked up. "Pilot location tends to lead to series location," said Sokoloski.
With an eye toward curbing runaway production, Sacramento has moved to extend the California Film & Television Tax Credit Program. But extending the $100-million program to 2017 will do little to keep dramas in L.A., Sokoloski said. "Even though the [tax credit program] is facing a two-year extension, it won't really change the game of how the benefit is applied."
Under the rules of the program, dramas aren't eligible for the benefits. But in other states they can receive tax credits. Even "Vegas," which is being shot at Santa Clarita Studios, wasn't originally supposed to be an L.A.-based series. The pilot was shot in New Mexico, in order to reap the benefit of tax incentives. But the series producers told the Los Angeles Times they decided to base here to take advantage of local production talent and because the stars of the series preferred it that way.
"I like sleeping in my own bed," Dennis Quaid, who plays Sheriff Ralph Lamb, recently told the paper.