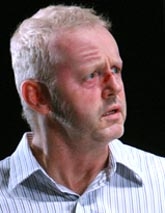 Whether he likes it or not, David Morse may always be most associated with St. Elsewhere. "To this day, it's almost the first thing people say," reports the actor, who played a physician who loses his wife on the popular 1980s series. Yet there are many sides to Morse — as there frequently are to his characters, such as the pedophile Uncle Peck in Paula Vogel's How I Learned to Drive, a subtle portrait that won him Drama Desk, Lucille Lortel, and Obie awards in 1997.
After a 10-year absence from the New York stage, Morse is appearing on Broadway in Conor McPherson's The Seafarer. He plays Sharky, an Irishman from rural north Dublin who looks after a brother who has recently gone blind. Here too, there's more than meets the eye: "One of the obvious things is he's an alcoholic and trying to be sober for this Christmas Eve," Morse says. "He's a man who has suffered a lot but has tried to do the right thing for most of his life, and the world has just not seemed to have let him do that. He's really just a powder keg. And it all comes to a head on Christmas Eve."
Morse began his career in 1971 at 17, straight out of high school, with the now defunct Boston Repertory Theatre. "This truly was a rep company," he recalls. "We'd do at least four different shows a week." An excellent way for an actor to hone his skills, you'd think, but Morse discovered a downside: "In some ways I learned too many tricks." His heroes were the great English actors — Olivier, Richardson, Gielgud — and his goal was for no one to realize he was the same actor from one show to the next. "I had pretty good instincts, I guess, but doing that 10 months out of the year, you accumulate a lot of junk," he says. "It's a trap — a lot of faces and voices, very external kind of stuff." After six years, he took the advice of a friend and moved to New York to study with William Esper.
By 1980, having appeared in several Off- and Off-Off-Broadway shows, Morse seemed on the brink of a career in Hollywood: He'd just completed his first film, Inside Moves, and expectations were high. But the distributor went bankrupt, and the film was yanked from theatres. "I was competing with John Travolta and Treat Williams, who was a big deal then, having a film which nobody saw," Morse recalls. Although he'd resolved not to do television — and thankfully, he says, a pilot he shot with Ted Danson for a Godfather rip-off set in L.A. was not picked up — it was the role of Dr. Jack Morrison on St. Elsewhere that put him on the map.
"It's hard to talk about St. Elsewhere," Morse says. "In fact, for a number of us it was a fairly painful experience. And you could never talk publicly about that. It was spectacular writing, one of the best series that has ever been on television. You really have to be grateful for that experience. There were so many actors who were struggling to do good work." But, he adds, "when you're working like that, it really is about personalities. Actors have to sign a seven-year contract and there is no good way out; the only person that's going to get hurt is you."
Decoding Morse
So by the time St. Elsewhere came to an end in 1988, Morse was hankering for the stage. As it happened, Lanford Wilson had written a role specifically for him in a new play called Redwood Curtain. "I wanted to do this play so badly," says the actor, who accepted the role even though his wife was pregnant with twins. "It was a chance to come to Broadway." After he created the role of Lyman in Seattle, however, the producers changed their minds about bringing the play to Broadway. New producers came aboard a year later, but Morse felt that his responsibility to his family, now settled in Philadelphia, came first and declined the part.
Eventually he debuted on Broadway in 1995, playing a priest in the short-lived stage adaptation of On the Waterfront. That led to a solo turn as an ex-priest in Heather McDonald's An Almost Holy Picture, which premiered at La Jolla Playhouse. When it came time for a New York transfer, Morse says he expressed strong feelings about what type of venue would be most suitable, until director Michael Mayer and the playwright "got tired of me saying there has to be a right place to do it." Eventually Kevin Bacon would play the role on Broadway. "That was painful for me, but that's life," Morse says with a shrug.
But the actor's greatest stage success — starring opposite Mary-Louise Parker in How I Learned to Drive at Off-Broadway's Vineyard Theatre — was still to come. "I had been asked to do a film literally just before that — Atom Egoyan's The Sweet Hereafter — where the father is a pedophile, and I didn't feel I could do it, because I had so much judgment about that character. I felt totally different about this, and it really is Paula. I thought she had real affection and even love for that character, but she never shied away from how bad he was. Really, all you had to do is play what she wrote. I was playing a man who's in love. Obviously he wants her, and at the same time he's teaching her how to escape him. It's just an amazing play."
Since How I Learned to Drive, Morse has appeared in films such as The Negotiator, The Green Mile, Dancer in the Dark, and recently Disturbia. He also starred in the CBS series Hack, which he was able to persuade the studio to shoot in his home city: "I said I'm not going to leave my family and would consider it if they did it in Philadelphia, so they did. It was great for the city. A lot of people got work for a couple of years. It brought $60 million into the city, which is huge."
Morse also recently completed work on the upcoming HBO series John Adams, playing George Washington. "It was extremely intimidating," he says. "You want to get it right, and you want to make him human. But the moment you do something, somebody will tap you on the shoulder and say, 'George Washington wouldn't sit like that!' " And then there's the accent: "I had basically two weeks' rehearsal, and we're doing this really unusual, old West English accent," he says. "As soon as you open your mouth with this camera there, you feel such a phony. It feels like all the bad theatre you've ever done."
The best thing about being back on stage, Morse says, is the thrill of rehearsing: "I love it because we don't get to do it in film. Or if you do, it's always about reassuring the director that we know how to act — that's all it is. And you don't want to give it to them. You want to save it for when you're in front of the camera." On the other hand, he adds, theatre "is the place where you get to do all the bad stuff and it's okay. Because of that, stuff happens that you don't expect, and that's the most fun — where it feels most alive and most dangerous." The Seafarer, he says, offers the added attraction of being part of an ensemble: "I really believe that something happens between good actors that's bigger than the actors themselves, and it only happens when you get together in the right kind of spirit. I like that experience of being part of something that's bigger than ourselves."
Editor's note: As of press time, The Seafarer is not performing due to the stagehands strike.
Bio Brief
Has been married to actor Susan Wheeler Duff since 1982
First English-speaking actor to be nominated for a Golden Horse Award, the Chinese Oscar, for Shuang tong
Played a recurring role on Season 3 of House
Moved to Philadelphia with his family after his Sherman Oaks, Calif., home was destroyed in the 1994 Northridge earthquake