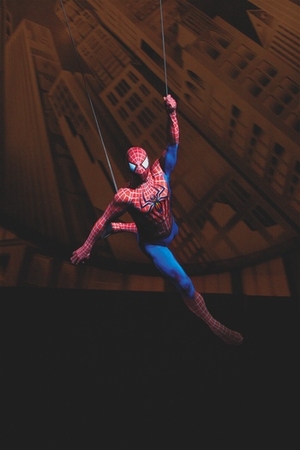 Anyone could be the next Spider-Man. Just as the radioactive spider happened to bite the nerdy Peter Parker, turning him into a crime-fighting superhero, any actor could be "bit"—so to speak—by the "Spider-Man: Turn Off the Dark" casting directors and creative team when they host open auditions to find the next Peter Parker and Mary Jane for the Broadway cast.
"It's a chance for anybody to be seen," said casting director Rachel Hoffman of Telsey + Company. "As casting directors, discovering new people and finding new talent is one of our favorite parts of doing what we do."
Reeve Carney, who originated the role of Peter Parker, will depart the show on Sept. 15, and open calls will take place in Los Angeles on Aug. 12 at Hollywood United Methodist Church, 6817 Franklin Ave., and in New York on Aug. 19 at Stage 48 & Sky-Lounge, 605 W. 48th St. Both auditions are from 10 a.m. to 5 p.m., with sign-in beginning at 9:30 a.m. Equity and non-Equity performers are welcome to attend.
For the roles, casting is seeking men and women in their late teens to early 20s of any ethnicity, with great pop/rock singing voices. Mary Jane candidates should be "beautiful girl next door" types, and Peter Parker hopefuls should have an "understated sex appeal and a sense of humor."
"What's really important is just being themselves," said Phil McKinley, who provided additional direction for the Broadway production. "There's a certain honesty about Peter Parker. A lot of guys come in and audition for this role, and they try to force the nerd."
Hoffman said that they're looking for "anyone who shows potential," and they may be filling understudy and standby slots as well. She added that they're looking for actors who aren't traditional musical theater types. Before making his Broadway debut, Carney was in a rock band, and an unusual vocal quality lends itself well to the show's rock score, which was written by Bono and the Edge.
"They've got to feel raw and real," she said. "I want to see everybody, but absolutely those people from the music world and from a less traditional Broadway past seem to be what often creates the most excitement in this show for the creative team."
Audition hopefuls should be prepared to sing a rock song a cappella that shows off their range, but they should have sheet music on hand should they be asked to sing with a piano accompanist. They should also bring a headshot and a résumé stapled together. Hoffman said that actors should choose songs they feel they do best.
Though McKinley said "it would be fantastic" if they discovered an unknown actor to take over the role, Hoffman added that an open call is a great way to meet new actors. Since Telsey + Company casts multiple Broadway shows, an actor seen at a "Spider-Man" open call could later be cast in another show.
What do actors need to do to impress the people behind the table this time around?
"I like a performer who walks in the audition room and wants to entertain, who's not thinking about auditioning but who's thinking about entertaining," said McKinley. "A lot of actors become so encumbered with the stress of auditioning that they forget that auditioning is really an opportunity for them to perform and entertain a group of people behind a table. I respond to that immediately.