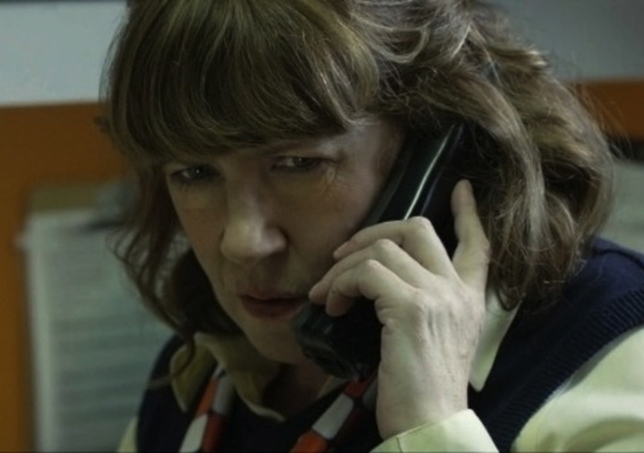 Dear Academy Members,
With Oscar ballots due Jan. 4, we need to talk about the supporting actress category. I know that on the surface, it's not a stellar year for the ladies in terms of potential nominees. (And we all know Anne Hathaway is going to win anyway.) So you might be asking, "What's the point?" Right now, there are four fairly assured nominees: Hathaway ("Les Miserables"), Helen Hunt ("The Sessions"), Sally Field ("Lincoln"), and Maggie Smith ("The Best Exotic Marigold Hotel"). Then there is the surprise inclusion in the Golden Globes and SAG Awards races of Nicole Kidman for "The Paperboy." But before you throw away a nomination on Kidman, I would ask you to reconsider one of the best performances of the year: Ann Dowd in "Compliance."
Okay, first let's address the Kidman issue. We all love her. She's glamorous, talented, and was the first of Tom Cruise's exes to surpass him and win that Oscar he's been gnashing his teeth over for the last 20 years. And you might be tempted to throw her in the mix after her surprise Golden Globe and SAG Award nominations. But have you actually seen "The Paperboy"? You couldn't have. You probably saw it was from the director of "Precious" and saw Kidman on some talk show being charming and figured you'd throw her in. But if you had actually seen the movie, you would know its so nonsensical that I was convinced while watching it that the projectionist had gotten the film reels out of order. Or, as a fellow critic said in the elevator following a screening, "I should get hazard pay for sitting through that." And I'm not talking fun bad, à la "Showgirls." Just bad bad.
Now sometimes, actors can give great performances in a bad movie, like Morgan Freeman in "Street Smart" or Mark Ruffalo in just about anything. This is not one of those cases. For starters, Kidman is woefully miscast as Charlotte Bless, a trashy Southern sexpot who begins a romance with a prison inmate (an equally miscast John Cusack). The fair-skinned beauty tries to play a Florida native, which means she has to be tanned to the hilt. As a result, Kidman paints herself orange. I'm not kidding; she looks like the world's hottest Oompa Loompa. And Kidman can play many things, but no amount of tight pants and smudgy eyeliner can make this regal beauty pull off trashy. Also, I'm not sure how old the character is supposed to be, but I sense it's late 20s/early 30s judging by her naïveté and the fact co-star Zac Efron refers to her as being not much older than his character. Again, Kidman is beautiful and lovely, but she's also 45. A damn fine 45, mind you, but not in Efron's age range.
Now, let's talk about the actual performance. There are two scenes that are etched into my memory from this film, and not in a good way—more in a "I wish I could throw bleach in my eyes after seeing that" way. The first is when Charlotte tags along with some journalists to meet her betrothed for the first time in prison. Never mind that the film has built up this madman, named Hillary Van Wetter (give me a break), to be the most rancid, dangerous, psychopath alive and out walks John Cusack. But then the two engage in "telepathic sex," with Van Wetter telling her to tear off her pantyhose and masturbate for him IN FRONT OF EVERYONE. The other scene is the only reason most people have even heard of this movie—those who refer to "The Paperboy" as "The One Where Nicole Kidman Pees on Zac Efron." Now you might be tempted to say that this is daring or bold of the actor to takes on such edgy material. You would be factually wrong. The scenes are even worse than you can imagine and even someone as talented as Kidman can't pull them off.
So how did Kidman sneak into the ranks of supporting sctress nominees? Well, she's beloved and she's been working it, likely charming voters left and right in personal appearances. And she's famous, which is why she's getting recognized over the likes of lesser-knowns who are far more deserving. I would point to Jennifer Ehle ("Zero Dark Thirty,") Kelly Reilly ("Flight,") Pauline Collins ("Quartet,") and Samantha Barks ("Les Miserables").
Which brings us to Ann Dowd. While I could make a case for any of the above names, Dowd is the one who actually seems to have a chance at breaking into the race—thanks in part to a campaign she is funding on her own credit card and with money borrowed from friends. The veteran character actor has been seen in films like "Philadelphia" and "Green Card" but landed the breakout role all jobbing actors hope for with Craig Zobel's "Compliance." In the film, based closely on a true story, Dowd plays Sandra, a fast-food manager who abuses an employee (Dreama Walker) after a prank caller claiming to be a police officer calls the restaurant saying the girl is a thief. What unfolds in the film's 90-minute runtime would be impossible to believe, but it actually adheres very closely to real events, even using dialogue from court transcripts. And while many people have questioned how "Sandra" could allow the prank to go on as long as it does, Dowd makes her actions fully believable. At the same time, she is no cartoon villain. The film sets up early her desire to be accepted and relate to her young employees. An awkward exchange where she brags about her love life is squirm-inducing in its realness. And as the "officer" on the phone compliments her on her work, her pride is barely contained.
So let's put aside the performance, as these awards often do, and just look at the story. Dowd is a classic Oscar tale: a hard-working, veteran character actor who was happy just to be working. Think Melissa Leo—who, incidentally spoke to THR's Scott Feinberg about Dowd financing her own campaign and said, "I applaud her bravery in forging ahead, because there's only regret to be had if she doesn't give it her all in this moment." She's got the critics on her side; Dowd won the National Board of Review Award for Best Supporting Actress and earned nominations from the Spirit Awards and Broadcast Film Critics Assocation. She has been the subject of much passionate praise—perhaps none better than Entertainment Weekly's Anthony Breznican wonderful article "Why I Wish I'd Pushed Harder for Ann Dowd of 'Compliance.' " And finally, there's the self-funded campaign. Dowd and her husband scraped together $13,000 to send out screeners to SAG and Academy voters after distributor Magnolia Pictures wouldn't. This has all the makings of a classic Hollywood tale, the underdog everyone roots for.
There's also the fact that she's fantastic. And did I mention the fact Kidman is orange?