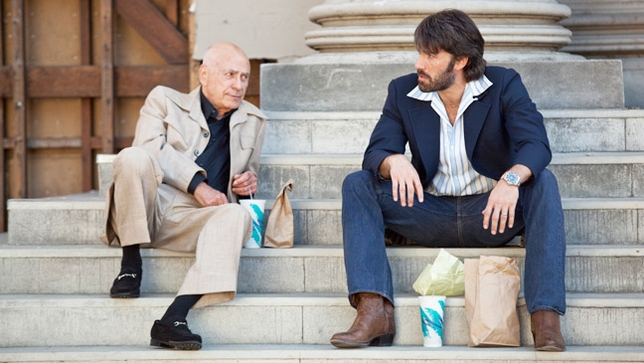 After months of speculation, tireless campaigning, and a lot of experts flip-flopping their picks, the film that seemed to be the frontrunner from the start won the top prize when "Argo" was named best picture at the 85th Annual Academy Awards on Sunday night. The film was either out of the running becasue of Ben Affleck's failure to land a best director nomination, or it started as a sympathy vote that carried it to the win--depending on who you ask. In my opinon, "Argo" was always the film to beat, a great story, expertly acted, and flawlessly directed. It also had very few detractors, where as other movies could be dismissed by people as too boring ("Lincoln"), too light ("Silver Linings Playbook"), too indie ("Beasts of the Southern Wild"), or too controversial ("Zero Dark Thirty").
The season turned into one of the most unpredictable in recent memory, with frontrunners seeming to change weekly. But in recent weeks, "Argo" began to clean up precursor awrds from the guilds, sweeping PGA, DGA, WGA, and SAG ensemble. With Affleck winning directing awards, it seemed as though the main contenders were Steven Speilberg for "Lincoln" and Ang Lee for "Life of Pi." The former had a massive campaign and the Speilberg name behind it, but seemed to inspire more respect than passion. The latter kept a low-key campaign, but industry love was increasingly obvious. Lee was the only director to earn a nomination from DGA, Golden Globes, BAFTA, and the Academy. And he won the most applause at the Oscar luncheon recently. Though there were no precursor awards, it was not a surprise to see Lee win best director. Interesting fact: he is one of only two directors to win best director twice for a film that failed to win best picture, the last being "Brokeback Mountain." The other director is John Ford.
So after months of guessing, there ended up not being many surprises to the night. In fact, looking over my predictions posted Thursday, I correctly predicted 22 out of 24 categories. (Counting the sound editing tie as a point.) I picked "Wreck-It Ralph" for animated feature, which went to "Brave," and "Life of Pi" for production design, which went to "Lincoln." Host Seth McFarlane made a few daring jokes, but overall kept things fairly respectable. There were few glitches--the camera showed best actress nominee Emmanuelle Riva instead of David O. Russell as best director was announced. One of the categories that was the toughest to call was best supporting actor, and it was the first of the night. Perhaps the biggest shock occurred when presenter Mark Wahlberg announed a tie in the category of sound editing, giving both "Skyfall" and "Zero Dark Thirty" wins. The last tie was in 1994 when two films shared the best short film award. Most famously, in 1969, Barbra Streisand and Katherine Hepburn tied for best actress. Other ties include 1931-32 where Frederic March and Wallace Beery shared best actor; in 1949 when two films tied for best documentary short; and in 1986 when there was a tie for best documentary.
And so another season comes to a close, though campaigning for 2014 has likely already begun.