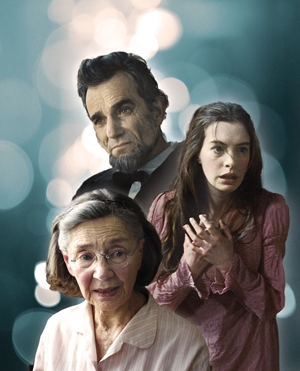 Voting finally began last week for the 85th Annual Academy Awards, and a little more than a week remains of what has been the most unpredictable and ugliest Oscar season in recent memory. With its clean sweep of the guild awards—PGA, DGA, and SAG ensemble—it would appear "Argo" is the film to beat for the best picture Academy Award. But what about the actors? There are two sure things: First, Anne Hathaway will win best supporting actress for singing and dying in "Les Misérables." (And she will be the only one who pretends to be surprised.) Second, Daniel Day-Lewis will take home best actor for "Lincoln." At one point, I had thought Hugh Jackman might be able to topple Day-Lewis, but if it was ever going to happen, it would have been at the SAG Awards. So Day-Lewis will add a third Oscar to the shelf in his home. Or shoe shop.
So that leaves two categories where surprises could happen. The most open to interpretation is best supporting actor, which is made up entirely of previous winners and beloved character actors. Tommy Lee Jones won the SAG Award for "Lincoln," and the smart money is still on him. But Christoph Waltz wasn't competing for SAG and delivers a showy, lauded performance in a huge hit film. He also won not only the Golden Globe Award but also the BAFTA Award, two serious precursors to Oscar gold. There are those who might want to give "The Master" some love, and awarding Philip Seymour Hoffman is their only chance because his co-stars aren't beating the sure things. There's also Alan Arkin, the only actor nominated from "Argo." And don't rule out Robert De Niro, who has campaigned harder than all the other actors put together for his role in "Silver Linings Playbook." Just this month, De Niro hit the Q&A circuit, had his hands and feet imprinted at the TCL Chinese Theatre, and cried on "Katie." Again, the safe bet is Jones, but it's anyone's game—particularly De Niro or Waltz.
As for best actress, Jennifer Lawrence is heavily favored to win for her tough, tender turn in "Silver Linings Playbook." For a long time, it was Lawrence versus Jessica Chastain in "Zero Dark Thirty," but the former's SAG win seems to have ended that debate. However, there are two powerhouses Lawrence didn't have to contend with at the SAG Awards: 9-year-old "Beasts of the Southern Wild" star Quvenzhané Wallis and 85-year-old "Amour" actor Emmanuelle Riva. If anyone was going to pull off an upset, it would be Riva, whose performance is inarguably brilliant. Boding well is the fact that Riva won the BAFTA Award on Sunday—remember, last year Viola Davis beat Meryl Streep for the SAG, but Streep took the BAFTA…and went on to win the Oscar. While Riva doesn't have the heat of Lawrence's career, the Academy clearly adores "Amour," recognizing it above flashier competition in the writing, directing, and picture categories. That means people are seeing it; and if you see it, you can't deny the power of Riva's performance. It could be a very sweet birthday for Riva, who turns 86 on Oscar night.