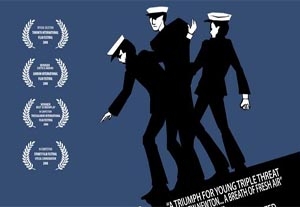 Filmmaker Matthew Newton's second feature,
Three Blind Mice
, about three Australian naval officers on shore leave before shipping out to Iraq, has enjoyed a healthy life on the festival circuit, playing for enthusiastic crowds in Toronto, London, and most recently Austin, Texas, at South by Southwest. Now it's coming to a screen near you, but not in the way you might think.
Rather than elbowing your way through a crowded multiplex, all you need to do to watch Newton's film is press a few buttons on your remote. As part of IFC Films' Festival Direct program,
Three Blind Mice
—and an array of other festival selections—is available on demand via cable.
A number of independent film distributors are employing innovative strategies such as this to ensure their releases don't get lost in the crowd. Though film buffs are still flocking to theatres—according to the website Box Office Mojo, box office receipts for the weekend of April 11 were up about 40 percent from the same time last year—it can be tough for indie films to find their footing.
"I think we're seeing more people go to the movies than ever before," said Ryan Werner, vice president of marketing at IFC Entertainment. "I think the issue is there are so many movies opening onscreen every week, you can't expect to be onscreen for as long. Some films open for a week in theatres and then are gone after that."
And with the economy in decline, many filmgoers are looking for pure big-budget escapism when they make time to go to the theatre. "It's a $200 evening: babysitters, parking, dinner, and the movie," said Newton. "It's just too much for a lot of people, and if they're going to do that, it's once in a blue moon, and I understand that people that are working 50 hours a week might choose to go and watch
Spider-Man
rather than some searing drama about abortion."
Negotiating the Terms
In an effort to give indies a longer life—and more exposure—IFC began both Festival Direct and IFC in Theaters, which makes the company's theatrical releases available on demand the same day they premiere in cinemas. "Our movies stay up for two to three months on-demand," said Werner. "When the movie opens in New York and L.A., it's available to 55 million homes nationwide. So if you're living in a small town where there is no art theatre, you can watch the movie that day."
This strategy reflects an increasingly prevalent way of looking at entertainment. With the rise of DVR-fueled, time-shifted TV viewing and video-on-demand services such as Hulu.com, consumers are becoming accustomed to digesting content on their own terms. "It is my firm belief that the day of a studio or a filmmaker telling you, 'My content will be available to you on this date; make time to go see it,' is over," said filmmaker Andrew Robinson. "Content is going to be everywhere, and it's my opinion that content needs to be available to the audience and the consumer on their terms, not on ours."
Robinson is looking to incorporate this philosophy into his new production and distribution company, Pure+Motive. Its first release, the Robinson-helmed
April Showers
, opened in theatres April 24 and will be available on Indieflix.com and iTunes on May 5. "The theatrical exhibition will enjoy two weeks on its own. That exists purely because in order to get a theatrical release, you have to give them something," said Robinson of exhibitors. "You have to give them some form of exclusivity."
This is one of the potential dilemmas of including a simultaneous on-demand component in a distribution model: Theatre exhibitors aren't always enthusiastic about showing a film that's easily viewable elsewhere. But Werner said people still seem to be going to theatres to see indie cinema, citing the respectable box office takes of IFC's
Che
and
Gomorrah
($1.7 million and $1.4 million, respectively), which were available on demand at the same time. "I think the model has to change for everybody in some way," he said. "There are always going to be traditional distributors, but I think for the real independents, it has to change."
A Holistic Approach
On-demand isn't the only way distributors are shifting the paradigm. Involving filmmakers more fully in marketing and distribution is another strategy some companies are using. After all, if the director's creative vision comes through clearly when a film is being promoted, it makes for a more cohesive package.
Adam Yauch (better known as MCA of the Beastie Boys) created the production and distribution company Oscilloscope Laboratories about a year ago with an eye toward being filmmaker-friendly. "Part of the structure of the company is doing a lot of the creative stuff in-house, in terms of poster design and trailers and the way the films are marketed, the DVD extras," he said. "I think a lot of distributors are much more just sort of like a business—like they could be selling toilet paper—and they farm out that creative work. The structure of this is a little more like an indie record label." The company released last year's indie hit
Wendy and Lucy
, which earned Independent Spirit nods for best feature and for Michelle Williams' lead performance.
Robinson also wants to involve the filmmakers he works with at Pure+Motive. "Most distributors take the film, write the filmmakers a check, and say, 'We know what's best—go away,' " he said. "We don't want to do that. We like filmmakers and we like the collaborative effort. If filmmakers want to do distribution through us, we'll be considering them an integral part of the team."
Some directors, on the other hand, are cutting out the middleman entirely and distributing on their own. Marianna Palka received offers for her debut feature,
Good Dick
, after it bowed at Sundance in 2008, but "they didn't make any financial sense," she said. "The offers were like, 'We'll give you, like, $40,000 and we'll take all your DVD rights and maybe we'll put your movie in a theatre.' "
Palka and her fellow producers nabbed a deal for distribution in the United Kingdom but ultimately decided to bring
Good Dick
to the American masses on their own, with help from theatre booker Richard Abramowitz and indie film consultant Peter Broderick. "We released in six or seven cities in the States, and we went to each one individually and talked about the movie," said Palka. "We were kind of like a band, in a way."
Gravitas Ventures, a licenser and programmer of video-on-demand content, recently made
Good Dick
available on a variety of on-demand platforms. Palka couldn't be happier at how self-distribution has worked out for the film. "If you have the intention of saying something that's positive with your film, then part of that positive message can be that artists should keep the rights to their movies," she said. "When I'm a 55-year-old lady and when I'm an 85-year-old lady, I'm still going to be organizing what's going on with
Good Dick
."

Blank Page, Open Mind
So how can filmmakers best navigate the shifting landscape of indie distribution? Scott Prendergast, whose debut feature,
Kabluey
—starring Lisa Kudrow, Chris Parnell, and Teri Garr—was released last year by Regent Releasing, said the key is to keep it in mind from the start.
"I think you have to think about the distribution of your film the minute you sit down to write your script," he said. "For me, I was thinking, 'I'm an unknown, I've never made a feature film, and I want to write and direct and act in my own movie. How am I going to get my movie into theatres? Well, I'm going to have to get some big names in the movie. And the movie's going to have to have something sort of catchy, like a visual image. And we'll have to make some stickers and we'll have to have a good marketing campaign.' "
Initially a five-city release was planned. After the film did well in its opening weekend and got a glowing review in The New York Times, Regent Releasing expanded it. "They quadrupled our release because The New York Times said, 'Hey, this is a great movie,' " Prendergast said. "Literally, the phone started to ring within minutes, and people were saying, 'We want the movie.' "
Given how tough it is to get a film distributed even in good times, said Newton, filmmakers should be open to less-traditional methods: "Don't say, 'No, I'm only going to wait for this company to pick it up' or 'I'm only going to do it if I get into Cannes.' Be open to anything. If it comes down to you projecting it in your living room for 20 people, that's 20 more people that have seen it."