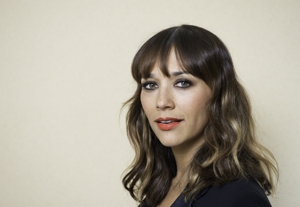 Rashida Jones knows her type. "I play a lot of dependable, affable, pragmatic girlfriends," says Jones, referring to her roles on TV shows such as "The Office" and "Parks and Recreation" and in films such as "I Love You, Man." But in her new movie, "Celeste and Jesse Forever," Jones took on her most challenging job to date -- in front of and behind the camera. Jones co-wrote the script with her good friend Will McCormack about high school sweethearts who maintain their friendship while divorcing, and she stars as Celeste opposite Andy Samberg as Jesse.
In the film Celeste and Jesse appear to be the perfect couple -- one would never suspect they are in the midst of a divorce. They are best friends who share inside jokes, such as sexually stroking produce, and talk in their own shorthand. But the career-minded Celeste has grown weary of Jesse's lack of ambition, and the two continue to drift apart and together until forced to make a final decision about their future. In many ways, the titular couple is inspired by Jones and McCormack's own relationship. "The dynamic is decidedly how we deal with each other," Jones says. "We jerk off tiny vegetables, and we talk in stupid accents together. We do all that stuff that I'm sure is annoying to other people."
The two met in 1999 when Jones was working with Will's sister, actor Mary McCormack. "She kept saying, 'You have to meet my brother; he's your soulmate; you two are going to fall in love,' " Jones says with a laugh. "We dated for two weeks. We were in our 20s and drunk the whole time, and it didn't work out. But we stayed friends." Over the years, the two spent a lot of time together "hanging out, talking about writing, talking about our dreams, floating around ideas, not executing anything -- that's what your 20s are for."
Growing up the daughter of music producer Quincy Jones and actor Peggy Lipton, Jones had always been interested in writing. While still a teenager, she famously penned an open letter to Tupac Shakur after the rapper made disparaging remarks to The Source magazine about her parents' interracial marriage. (The two ended up becoming friends. Shakur and Jones' sister Kidada were engaged at the time of his death in 1996.) At one point, she was a contributing editor to Teen Vogue. And she penned a chapter for her father's 2001 biography.
But it wasn't until 2008, when Jones was on hold for the show that would become "Parks and Recreation," that she found herself with the time to write her first screenplay. Jones had just worked on "The Office" with her college friend Michael Schur, who was developing a new show for NBC. "He told me, 'Look, we don't know what this is going to be, but I just want to hold you so you don't do something else in case there's something for you in it,' " Jones says. "I waited and waited, and it was kind of torturous. So I was just trying to write myself out of a painful, dark place, and Will was a good enough friend to do it with me." Jones estimates the film took four months to write -- but years to get made, after they sold it to companies such as Fox Atomic and Overture Films, both of which folded shortly after acquiring the script. It wasn't until 2011, on her hiatus from "Parks and Recreation," that they were able to shoot the film on a shoestring budget in 22 days.
Family Business
Growing up the offspring of famous parents, Jones initially resisted following in their footsteps into the entertainment world. "I rebelled, like every kid does, and my rebellion was to study and read a lot and follow an academic route," she says. But the allure of acting was too strong. "When I realized it was what I wanted to do, there was a bit of a disappointment in myself, like, 'Aw, you're going to do what your parents do?' " Did she ever ask her mother and father for advice on the business? "I would be silly not to use that incredible resource of having wonderful parents who also happen to be in the business I was trying to tackle," Jones says. "My dad's advice was really great: to follow what you love, keep your heart in it, listen, learn, get better at everything you do."
On graduation from Harvard University, Jones set off for New York to be an actor. "To be honest, I thought it was going to be easier than it was," she says. "And I'm kind of glad I did. With any big step in your life, you want to be a little bit naive about how easy it's going to be, or else you wouldn't do it." She estimates she booked one job before moving to Los Angeles, where she began doing commercials. She found casting a tough process, as she didn't fit into any of the easily classifiable categories. "I definitely had casting directors say to me, 'You're too white for this part.' I remember going in for a black character and a CD saying to me, 'What are you doing here?' " Jones says. "Other times I would go in for the girl next door, and I was too exotic for that. I was too quirky to be the popular girl but not nerdy enough to be the sidekick. I was stuck somewhere in the middle, and part of that was because I was biracial."
Jones points out that this was 15 years ago, and she feels times have changed. "When I first started, it wasn't as cool or prominent to be biracial," she says. "Now you have these standards of beauty like Jessica Alba and Eva Mendes and Halle Berry. Things have changed, and I hope they progress even more." She also knows that every actor has his or her own hurdles to overcome. "I wouldn't say my experience was any harder than any other actor's experience," she says. "It's the nature of casting; you don't fit in, until you do."
One of Jones' early breaks came courtesy of the David E. Kelley show "Boston Public," her first gig as a series regular. "I was on for two years, and then I basically got fired," she says. "They didn't pick up my contract." More dramas followed, including the British series "NY-LON" and the police procedural "Wanted." But Jones longed to do comedy, and began to pursue relationships with comedians she admired. She had seen the cult comedy "Wet Hot American Summer" and asked a mutual friend to introduce her to the film's writer-star, Michael Showalter. "I told him I would love to do anything with him," Jones says. Shortly after, she was cast in the pilot of "Stella," starring the comedy team of Showalter, David Wain, and Michael Ian Black. She would go on to appear in Wain's film "The Ten" and play Wain (disguised as a woman) in his web series "Wainy Days." She also met "Chappelle's Show" co-creator Neal Brennan and got on the show. "I told him I would do any sketches he wanted me to do. I was just trying to get myself involved in comedy stuff."
Still, Jones seriously considered leaving acting for a time. "There weren't that many jobs, and I just felt like maybe there was a better way for me to spend my time," she says. Jones was thinking about going back to school when she auditioned for a show she had been out for several times -- "The Office." She got the role. Since then, she has worked regularly and never looked back.
Casting Ouch
Jones says she's at a point where she is getting offered jobs or finding herself up for much more high-profile roles, something she finds thrilling and terrifying. "It's more intimidating than it ever was because it's for my favorite directors, and I could possibly get it," she says. "So if I blow it, it's my fault." She was involved in the casting of "Celeste and Jesse," which was a sobering experience. "The biggest thing that came out of casting for me and Will is that there are so many good actors, it's insane," she says. "Every single tape we saw, people were so good, they had such a unique take on the character, they were so prepared, they just nailed it. It reminded me there are so many good actors, it's a miracle anyone ever gets the job. It kind of broke my heart, I really wanted to give everybody a part, and you can't."
Many of the roles in "Celeste and Jesse" are filled by friends of the writers, including Chris Messina; in a role written specifically for him, Messina plays a potential love interest for Celeste. Jones has also known Samberg for years, even before he was on "Saturday Night Live," and considered him for the role of Jesse early on. "I then asked Andy to read the script, just as my friend, and he really liked it," Jones says. When director Lee Toland Krieger came on board, he fell in love with the idea of Samberg as the immature but appealing Jesse, a role that plays to his comic strengths but also requires more dramatic depth than the actor has ever been asked to show. "Lee was adamant about putting Andy in that part," Jones says. "It's not just that he defines the essence of the character; it's that he's never had the chance to do something like this before. And I think it's exciting for everyone to see someone do something new. It adds an energy to the movie you wouldn't get if you saw someone who plays roles like this all the time."
As for her performance, Jones says playing Celeste was among her most challenging roles. "I've never had to go to these levels in a film or play someone who carries the film as much as I do here," she says. "Because of that, I made a decision early on that I couldn't get involved in the politics of being a writer or producer if I wanted to turn in the performance I wanted." Instead, she concentrated on her performance and let Krieger and McCormack (who appears in a supporting role as a stoner friend) focus on script issues.
With "Celeste and Jesse" in theaters and Season 5 of "Parks and Recreation" set to return in September, Jones is busy in front of the camera. But she is still writing with McCormack; the two wrote a screenplay adaptation of her comic book "Frenemy of the State," about a socialite turned CIA agent, which is currently at Universal and Imagine Entertainment. And the pair are "floating some other ideas around" because they "spend more time together than most married people."
While you'll have to see the film to learn if Celeste and Jesse make it work, one has to wonder why things haven't panned out with Jones and McCormack. "There's a currency you have with a person, and it can be used for love and romance or friendship and working together, and we chose the friendship and working together," Jones says. "And that's better than I could ever imagine. Also, now we never have to get divorced."