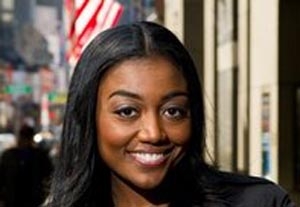 NEW YORK – Patina Miller has taken her role as a nun in "Sister Act" very seriously. How seriously? Her life these days is pretty cloistered.
The 26-year-old actress doesn't go out partying and hasn't dated since she nabbed the lead in the musical in late 2008. While in London with the show for 18 months, Miller didn't hit the pubs or stay out late while developing the part.
"I lived like a nun," she says in an interview at a cafe before another long rehearsal day. "It took a lot out of me physically so I wanted to be the best that I could be. And I knew that at some point, maybe, I would be able to take it to Broadway."
Her prayers have been answered.
The musical with funky, soulful songs by Alan Menken and Glenn Slater opens Wednesday at The Broadway Theatre with Miller leading the way, a welcome debut from a young talent whose years of hard work and sacrifice are about to pay off.
"I'm always going to give a 110 percent. I can't do less than that," she says. "When you want something like this, you have to be willing to do what it takes. I'm serious about it. It's my passion. And it's my moment. You only get your one moment. You never know when the next moment is going to happen."
Miller has stepped into the shoes of Whoopi Goldberg, who originated the role of nightclub-singer-turned-nun Deloris Van Cartier in the hit 1992 film. She's the only cast member from the London production to make the switch and so has had to welcome all new actors, a new director, a tweaked script and new songs.
"I'm doing an entirely new show," she says. "I know this character in and out, so no matter what changes in the show, I know my character's journey. I know who she is because I've lived with her for three years now."
Goldberg, a producer of the musical, draws on heaven-and-hell imagery to describe her star, who was nominated for an Olivier Award for the role in London: "Patina sings like an angel and works like a devil. She's fantastic."
Miller took roundabout path to Broadway and might even have gotten there faster without "Sister Act." She had been part of workshops for "The Book of Mormon" and "American Idiot" before she left for London, and had to leave the juicy role of Dionne — who sings the opening lines of "Aquarius" — in the Public Theater's production of "Hair" before it transferred to Broadway.
Even so, Miller has no regrets. Unlike those other roles, her part in "Sister Act" is a star-maker. "If I'm going to do it, I want to do it big," she says. "What I get to do with this character is really everything. It's a fleshed-out character. I get to be funny. I get to be serious. I get to lead a show."
Miller, who graduated with a musical theatre degree from Carnegie Mellon University, says she and her siblings memorized both "Sister Act" movies — the 1992 original and the 1993 sequel with Lauryn Hill — while growing up in Pageland, S.C.
"We would play it and rewind it until we knew all the words — one and two," Miller says, laughing. She even sang Hill's version of "His Eye Is on the Sparrow" from the sequel as her solo in a seventh-grade talent show.
"From then I was known as the girl with the big voice," she says.
Years later, she got Goldberg's personal approval to play the lead in the "Sister Act" musical. Miller says she was nervous when she met her childhood idol — but equally scared about trying to replace her.
"It was the only thing I was nervous about when I first started. I told Whoopi. I was like, `My biggest fear is that people come expecting you and I'm not you.' She told me, `You're not me. You have an opportunity to create a role for a new stage. Do it your way. It's your moment. Own it.'"
The critics in London mostly agreed that Miller had owned it, with The Telegraph hailing her "funky, spunky stage presence and great comic timing" and The Times calling her "the show's great plus."
Miller says her character has changed a lot since the London run, as Douglas Carter Beane built on the original book by Cheri and Bill Steinkellner. The soundtrack also got reworked and Tony Award-winning director Jerry Zaks got a chance to shape the material.
"Dolores is a lot more grounded. Whereas in London she was very sassy, now she's just cool," Miller says. "I am loud and brassy sometimes, but there is another side to her as well which is just cool and laid back. And there's a really serious side to her that you see at the end."
Miller, who appeared this winter in a production of "Lost in the Stars" at New York City Center while waiting for "Sister Act" to restart, has moved into a new apartment near Times Square and is ready for her close-up.
"It was always my dream, to do a leading role on Broadway," she says. "It's what I went to college to do. In hopes of one day someone taking a chance on me and saying, `You know what? You're going to be our girl.'"
So, is she now finally ready to date?
"I don't know, maybe," she says, and then bursts out laughing.
---
Copyright 2011 Associated Press.  All rights reserved.  This material may not be published, broadcast, rewritten, or redistributed.