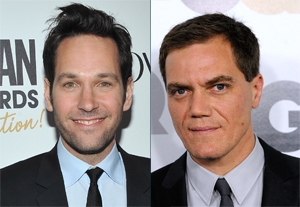 As the 2011-12 Broadway season ends, announcements for 2012-13 are beginning to pour in and, refreshingly, not all of them are revivals or jukebox musicals.
One of the earliest to premiere will be "Grace," a new work by Craig Wright ("Mistakes Were Made," "Recent Tragic Events") about a young couple starting a new life in Florida with plans to open a chain of gospel motels. Paul Rudd and Kate Arrington play the couple, and Oscar-nominee Michael Shannon ("Revolutionary Road") has been cast as an agitated neighbor and Emmy winner Ed Asner plays a caustic exterminator. The play has been seen in regional productions at Washington D.C.'s Woolly Mammoth Theatre, Chicago's Northlight Theater, and the Pasadena Playhouse in Los Angeles. Previews for a limited engagement begin Sept. 14 in advance of an Oct. 4 opening at a Shubert Theater to be announced. Cap Casting is the casting director and EPAs for understudies will be held on June 21.
"The Performers" is another new play, but the subject matter is decidedly different. The comedy by David West Read ("Dream of the Burning Boy") concerns a group of porn stars gathering at the Adult Film Awards. The New York Post recently reported that
Henry Winkler
was interested in starring as a character loosely based on X-rated leading man Ron Jeremy. No dates or theaters have been announced, but Cindi Tolan is the casting director and EPAs for all roles are being held on June 19, 20, and 21. Here's a
link
to the Back Stage casting notice.
Speaking of awards, the Tonys aren't the only theater honors in town. Earlier this week, Back STage attended the 57th annual Drama Desk Awards and met Kathleen Marshall at the after party. She was nominated for her direction and choreography of "Nice Work If You Can Get It." Back STage asked about her next project, a musical version of the Drew Barrymore Cinderella-variation film "Ever After," which had been announced for the 2013-14 season and we reported on in a recent
Broadway Shuffle.
She told Back Stage there has been a reading and another one is being planned, with Telsey + Company as the casting directors for the project.
The Tonys represent a great opportunity for struggling shows to reach a national audience. A brief on-air excerpt can mean thousands of new ticket buyers. That's why shows that aren't even in contention vie for time on the broadcast. Producer Ken Davenport reported on his
blog
how difficult it was to get a spot for his non-nominated revival of "Godspell" and how if it doesn't result in a boost at the box office he may have close the show at the Circle In The Square as early as June 24, which would mean a potential home opening up for one of the many theater-less shows circling Broadway.
David Sheward is Special Sections Editor for Back Stage. Follow him on Twitter at @DavidSheward2.