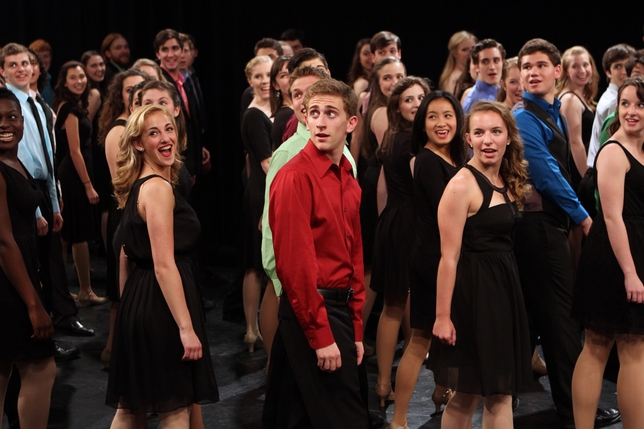 If you've seen "Glee" or "High School Musical" you must know everything about kids and musical theater, right? No way.

"Broadway or Bust'," a new three-hour documentary series from PBS and WGBH Boston, follows 60 high school students from across the country in New York City as they rehearse a show to perform on a Broadway stage in front of a live audience and judges. The three-part series leads up to the final performance at The National High School Musical Theater Awards, popularly known as The Jimmy's, where the kids compete for two winning spots as the top male and female performers and college scholarships.

Executive producer Laurie Donnelly describes it as "reality, not reality television." "I think it's the process itself that is the star of the television series and the backdrop is the competition," Donnelly added.

In an intense five-day rehearsal process, participants work with professional coaches on music and choreography written specifically for the awards. Students are assigned to coaches, including talent such as Leslie Odom Jr. from NBC's "Smash" and Emmy winning actress Liz Callaway, to rehearse solos and opening and closing numbers.

"Rehearsals were a long and rigorous process," contestant Joshua Grosso said, likening the five-day process to a theatrical boot camp.

In bringing together 60 kids chosen as the best of the best in the nation, the competitive pressure affected the students. Since most of them came from being the star of their hometown, Donnelly said the presence of so much talent pushed the kids to do their absolute best.

"You get to look around and say I'm not the only one that wants to pursue this and touch people with this ability," Grosso said, who was at first unsettled by participating in The Jimmy's. "Of course [it was] very intimidating; I could either wallow in self pity or try to meet the standards of everybody else that was there."

"A lot of us come from areas where we tend to be or are the big fish in small ponds," said contestant Elizabeth Romero about competing with other talented kids. "It's nice to be thrown into a big pond with all the big fishes."

However, the kids managed to get past the pressures of rivalry and support one another.

"The competitive environment disintegrated pretty quickly," Grosso said. "You soon forgot after the second [or] third day that it was a competition and your main focus was to put the show up."

Romero, who was the only returner to The Jimmy's this year, said her previous experience from the year before allowed her to become a leader for the group. "The kids would call me Mama Bear because I'd help them out and knew what to expect as far as rehearsals and the final audition," she said.

While the experience of rehearsing and performing a full show in under a week affirmed Broadway dreams for many, it may not have been for everyone.

"I think for other kids maybe there's a different part of the music experience they want to be a part of [and] it might not be being on stage," Donnelly said. "But I think no matter what it becomes a life changing experience."

Although only two kids will leave The Jimmy's winners, both Grosso and Romero believe that any aspiring young performers can make their dreams a reality.

"There will be lot of rejection and lot of No's, but you can do it," Romero said.

Grosso's advice for aspiring actors was to focus on learning and discipline. "If you want to become an actor you're learning how to be human," he said. "The more you're aware of what's around you the better at your job you'll be."

The "Broadway or Bust" finale airs on PBS on Sunday at 8/7C.