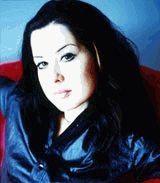 First thing you notice while descending the stairs is the muted scent of roses.
A rope of plastic flowers is twisted around the handrail, and rose petals are scattered across the cement floor below. A ghostly mannequin stands upright beneath the steps.
Through a doorway, you enter a dimly lit, red-hued chamber. The furniture inside is lush -- wood couches and ornate chairs, with velvety oversized pillows. Arabic music plays in the adjacent room.
From behind a small table, a statuesque, flaxen-haired hostess stands to greet you and, in hushed voice, offers you tea and delicate pastries (created by one of the courtesans, she adds). She then asks you to pick which tale you would like to hear.
After choosing, you pass through a set of thick curtains and enter the chamber. Inside, on a slightly raised platform, is a single chair with a blindfold on the seat and leather restraints attached to the arms. You sit and place the blindfold over your eyes. After a few moments, you feel a breath from behind you. A sultry feminine voice then whispers, "I have a story for you."
With "The Courtesan Tales," NYC poet and performance artist Nicole Blackman aims to create theatre on the most personal level possible: one on one. And she has done so by carefully orchestrating an atmosphere that makes the experience for the audience members as intimate as possible.
"Being alone in a room together means we have a relationship that neither of us will have with anyone else. It's kind of sacred," says Blackman. As a performer, "that really intrigues me."
In this production -- back at P.S. 122 after a sold-out run last fall -- participants make an appointment to have either her or fellow "courtesan" Eve Prince tell them one or more stories. They can choose from more than a dozen, ranging in tone from intensely erotic or frightening to lyrically romantic or nostalgic. Each lasts between five and ten minutes. Many have a twist or surprise ending.
But that's not all. During the course of these tales -- which are generally whispered in one ear or another -- the listener may feel a rub of fabric against their skin, the tickle of a feather, or a gentle caress or kiss. They may be fed something. And in one erotic tale, the courtesan may sit on your lap while recounting the details of a provocative sexual encounter.
In other words, these are truly "tales of the senses."
"Since we get 95 percent of our information visually, when you're blindfolded all of your other senses are heightened," says Blackman. In this spirit, both the environment and the way the story is told are carefully tailored to make the experience as evocative as possible.
It starts from the moment the audience member walks in.
"We want there to be separation between this place and the outside world, so that your emotional state changes as you come in from the outside," says Blackman. "The music, the tactile sense of touching curtains, being fed something -- all of your senses are engaged before the journey begins. People don't even realize it."
Blackman says it's all planned in advance.
"Everything in that space is there for a reason. There's nothing left to chance.
"I want to create the sense in the performance that you [the audience member] are there, and that you are drawn into the story. And in certain ways, the story is drawn into you -- through all your senses except sight."
One thing at which she works especially hard is creating a non-threatening environment.
"There is a tremendous sense of trust here, because [the listener] has bestowed to me the power to do whatever I choose with them. There's a lot of responsibility in that. I'm very protective of people while they're in the space, because they're really in my home.
"That's why everything is planned out... I'm careful to surprise someone without startling them.
"You can only get [the right] responses if you've really thought about it and know how far you can push them. I can't do anything with someone until I've earned their trust."
But the trust goes two ways. After an unfortunate experience with a drunk, she added the restraints two years ago, mostly for her own protection. But she says it's almost never been a problem since.
"Some people even commented that it enhanced the experience for them," she laughed.
In fact, she added that the use of tactile sensations often evoke associations that have nothing to do with the stories.
"A simple touch on the hand has a different connotation for each person. For some, it's comforting, or the beginning of a seduction, or condescending, or very motherly. [That] gesture -- with nothing else emotionally connected to it -- can have a hundred different meanings."
She says it changes the experience for her every time she performs.
"Even if I do the story exactly the same way every time, the listener's frame of reference shifts the meaning of what happens [between us]."
In the best sense, it makes the experience truly individual for each participant.
"My stories are a key to opening up these associations. But what happens when you go through those doors is entirely your journey."
"The Courtesan Tales" is playing at P.S. 122 by appointment only Thursday through Saturday from 7-10 pm. Stories are $20-$30 each. P.S. 122 is located at 150 First Avenue at 9th St, NYC. Must bring photo ID with proof of age. For more information or reservations, call 212-477-5829 x309 or visit www.ps122.org.