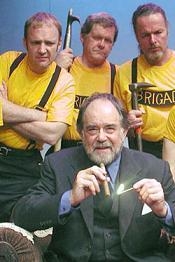 Despite the fact that veteran actor Laurence Luckinbill is, in his own words, "overcommitted, and the last thing I needed was another play--I don't mean to sound arrogant--there was no way I could cross off 'The Firebugs.' "
The 1953 Max Frisch play is, after all, precisely the kind of political theatre that interests Luckinbill. Indeed, as he tells it, political theatre--with a small "p," that is--is the only theatre that resonates with him, especially now, in the aftermath of the Sept. 11 terrorist attacks.
"The Firebugs," which opened Off-Broadway at the Neighborhood Playhouse June 5, examines the cost of self-delusion and denial in an absurdist universe. Specifically, it tells the story of a community overflowing with arsonists--fires are erupting all over the place--who are virtually unstoppable, not that anyone tries.
Consider this: When three firebugs--right out of the pages of a brutal comic strip--show up at the home of the, uh, intellectually limited Biederman (Luckinbill), none too subtly indicating what their intentions are, he does everything in his power to make their stay pleasant and comfortable. He truly believes that if he appeases them--better yet, doesn't acknowledge what they're about at all--no harm will come to him.
The production is a presentation of the six-year-old Colleagues Theatre Company, whose mission is to provide mature artists with performance opportunities in leading roles.
"With an amused but not so tolerant chuckle, [the Swiss-born] Frisch was warning against Swiss complacency and smugness after World War II and the Communist takeover of Czechoslovakia," asserts Luckinbill, an intense 67-year-old Fort Smith, Ark. native, who meets with us in the theatre shortly before a performance. "He was saying the only defense is strict honesty with ourselves and each other. And that dishonesty and lying and failure to confront each other, with our middle-class, wishy-washy, mealy-mouthed politeness, is the cause of our downfall."
His enthusiasm for the play notwithstanding, Luckinbill admits "that the process of working on this piece was harrowing. The play went through many transfigurations, from an essay to a radio show to a burlesque and then finally a play. We've had to pare it down through its successive translations and distance it from its Brechtian and burlesque roots in order to bring it into a uniquely American perspective that, on some level, relates to 9/11.
"The biggest challenge for me is in the words. It has been through so many translations. But, more important, the normal connective tissue that we'd have in a naturalistic play isn't here. This is a work of slogans and attitudes and a cut-to-the-chase plot with no time to think. I've been in plays that are not naturalistic--Beckett, Orton, Pinter--but this is harder because Biederman is so stupid and I'm not known for being good at projecting stupidity. At least that's my assessment of myself." (Nevertheless, Luckinbill's Biederman is a blustering fool.)
"The main work for the actors is not trying to place the characters' experiences in an emotive context. It's not, for heaven's sake, about sense memory. It's more like a 'Saturday Night Live' sketch. You just jump in and see where that takes you, as the plot twists and turns. It's a toe dance on eggs with plates in both hands and blowing a kazoo. It's hard. I love it."
And, Luckinbill makes it clear, loving what he does is paramount; he has almost never performed in a script that doesn't interest him. ("I did a Charlie Bronson movie because I needed a new patio and hot tub," he concedes with a sly smile.) But for the most part, his ambitions have been, well, lofty.
Case in point: In his attempt to improve the cultural landscape in the '60s and '70s ("not to give myself roles"), Luckinbill was a charter member of the APA-Phoenix, the Lincoln Center Repertory, and the American Conservatory Theatre.
The Aging Actor
Elevated goals aside, Luckinbill boasts an extensive resume in all three venues--stage, film, and TV--as producer and writer as well as actor. His "Lucy & Desi, A Home Movie" (NBC TV), co-produced with his wife, actress Lucie Arnaz, earned him an Emmy Award as head writer. Luckinbill also contributes articles to various publications, like The New York Times Magazine and Esquire, among others.
He won a Tony nomination for his performance in "The Shadow Box" and an Emmy nomination for his one-man play, "Lyndon," based on the life of President Lyndon Johnson. Luckinbill is currently touring the United States with his three solo shows: the aforementioned "Lyndon," along with pieces inspired by Clarence Darrow (which Luckinbill penned) and Theodore Roosevelt. The latter, "Teddy Tonight," is slated to open Off-Broadway this fall.
Among Luckinbill's television credits: "The Delphi Bureau," "Dash and Lily," and "The Boston Massacre." In film, he has been featured in such pictures as "The Boys in the Band," "The Promise," and "Star Trek V."
Interestingly, Luckinbill insists that his age is no obstacle. On the contrary, he is working now more than ever, and "the aging actor," even as a topic for discussion, enrages him.
"It's a media invention: viewing older people as charity cases in need of special treatment. The actors in this show are fabulous, and there isn't anyone in the company who couldn't work a hundred percent of the time if the theatre was real. But it's not. It's a fake collection of money-getting contrivances."
Part of the problem, from his point of view, is that serious plays (that might feature older actors in leading roles) are not being written; they're certainly not being produced, he states.
"There is no [nurturing] source for them. Yes, there are small theatres out there that might do them, but they are precarious operations with low funding. The producers have to be intrepid, like Lewis and Clark. Come on! This is 2002. Why does someone have to be Lewis and Clark? Why can't there be a .005% tax on the sale of all theatre tickets that would underwrite serious work? Is it so terrible to ask these greedy bastards to give something back? I'm not looking for villains. But why are we so smug, so content with ourselves when the theatre is a smoldering garbage heap?"
Luckinbill is a man of strong opinions. Check out his spin on actors, who they are and where they come from (literally and existentially), which in turn leads him to an impassioned commentary on other topics.
"There's a psychopathology in this field. Most actors have drug and alcohol abuse in their families and emerge from seriously dysfunctional backgrounds. The theatre has traditionally provided a home for the disenfranchised. If the theatre were more forgiving, we'd be giving a home to defrocked priests. It's a good place to find boys." Deadpan.
Luckinbill reels off observations on a range of subjects--from Teddy Roosevelt's role in the Caribbean to political correctness in language ("It's the height of folly not to allow the word 'mankind' to appear in the Regents") to the disintegration of the FBI, CIA, the educational system, and the culture at large--the latter most vividly embodied in Eminem's "trashing of girls."
One thing is certain: Luckinbill's curriculum vitae is most unusual.
During the Kennedy years, he worked for the State Department as a theatre director and lecturer in the U.S. Foreign Service. He lived in Africa and Italy, where he directed "Macbeth" (in Arabic) and "Our Town" (in Italian). And, he notes, without any change of inflection, that he seriously considered a career in the CIA and would have been a likely candidate for that agency or the FBI.