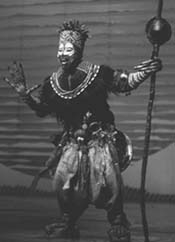 It seems like it shouldn't be such a problem. You've landed a role in a hit New York show, and your contract stretches far into the future. You've finally won a bit of acclaim, not to mention that security you've always craved. You won't have to go out for auditions anytime soon, or worry about subletting your apartment while you're seeing America on a tour that may or may not play out. Your dreams have finally come true, right?
So why do you feel so trapped?
For some actors and crew members, being involved with a long run is sheer happiness. For others, it's a kind of hell.
Barbra Streisand once described the last year in "Funny Girl"--her second (and final) Broadway show--as a nightmare: "I felt like I was locked up in prison," she recalled. "It was very trying to be at the whim of every audience. If the laughs were smaller at one performance than another, then I'd worry why they were smaller. I'd worry during the performance. I'd keep thinking, 'I can't seem to please these people enough.' It was very, very exhausting."
Catherine Russell may be the antithesis of Streisand in this regard. For the past 15 years, she has played Off-Broadway as the frantic psychiatrist in Warren Manzi's thriller, "Perfect Crime." And she loves it. Russell has given more than 6,000 performances in the show, and has never taken a vacation. (She's missed only four performances--in order to attend her siblings' weddings.) People Magazine once referred to Russell as "The Cal Ripken" of New York theatre.
"I know long runs aren't for everyone," she said recently, after a Saturday matinee. "For me, when I was a little girl and thought about being an actress, I never really thought about being famous. To me, the idea of being an actress was to be on stage at night."
Because she is also the general manager for "Perfect Crime," Russell has a vested interest in keeping the show polished and alive. In fact, she compares herself to 19th-century actor-managers such as Lillie Langtry and James O'Neill, whose careers were a sort of amalgam of art and business. It's Russell who tears tickets before each performance at The Duffy Theatre. She's able to take stock of the audience beforehand--observing whether they're predominantly young and scruffy, older and well-heeled, or first-time theatregoers from Omaha and Boise.
"Looking at people's faces when they walk in makes it very hard for me to 'phone in' a performance," she explains.
Unbelievable as it may sound, Russell says she's still able to find something new about her role during each performance. That's partly because she has literally grown into the part. Her character is supposed to be about 40 years old. She began playing in the show when she was 31, and she's now 46. "I'm kind of like bookending it," she says.
Russell is on the faculty of NYU and also teaches acting privately. She often acts in other projects on the side, particularly late-night shows. And she's part of an advisory business--MGR Consulting--that gives tips to producers about maintaining long runs. All of these activities help her avoid stir-craziness.
While Russell's is an extreme case, there are plenty of other performers and stage managers in town who face the challenges of keeping a long-running show crisp and clean, of ushering new talent into a company, and of maintaining continuity. Back Stage recently spoke with some of these people to learn their trade secrets.
It's Always Tea Time at the Lunt-Fontanne
Beth Fowler wants to know, "What's the fascination?" She's not sure why people are so interested in the phenomenon of long runs. People are forever asking her about her extended stint as Mrs. Potts, the motherly teapot in "Beauty and the Beast." The Disney musical opened at the Palace on April 18, 1994, later moving to the Lunt-Fontanne.
Certainly, when Fowler signed for the role, there was no assurance that she was stepping into a hit. As a matter of fact, she can laugh now that she was torn at the time between her role in "Beauty" and a part in "The Red Shoes" (which turned out to be one of the biggest Broadway disappointments of the 1990s, playing a total of five performances).
The reviews for "Beauty" seemed to indicate that it too would quickly fold. Fowler believes that the show was the victim of "Disney bashing." But word of mouth was good, and the show settled into its run. Before the end of the first year, Fowler went to Los Angeles to inaugurate the company there--staying seven months.
She's taken some breaks from "Beauty" over the years. About two seasons after returning to New York, she was injured. "Ironically, at the point in time when I was considering leaving because I had been doing it so long and because I thought it unwise for me, career-wise, to stay for that long, I had the injury. And I was out for seven months, and they invited me to come back, and they were very generous. And I thought, 'Well, yes, I'll do this'--and I stayed for another year."
But she decided she didn't want to be a part of the scaled-back version when the show later moved to the Lunt-Fontanne. She left once again and stayed out for two years--then was invited back to the role for a six-month engagement. When she went to view the show again, she was delighted with the shape it was in. "I loved the way it played at the Lunt; it was more accessible. I, as an audience member, felt embraced by it, which I never felt at the Palace. Plus the fact that I was really impressed with what they had done in maintaining the show, and the level of performances." So she returned to the nest yet again.
She had one more respite when she appeared in last season's "Bells Are Ringing," but is now signed with "Beauty" through November of this year.
Fowler claims that the show has a built-in popularity factor--undoubtedly because it's based on a hit animated film (for which Angela Lansbury provided the voice of Mrs. Potts). "To do this show is to go on stage and have them love you before you do anything. And then, when you do do something nice, they're really happy."
She feels that she's kept growing in the role over the years. Her Mrs. Potts is less "affected" than she was at the outset--and, paradoxically, is both simpler and more complex. "I just feel that I'm inhabiting the character with great ease," she adds.
Unceasingly listening to the audience for cues about what they need helps Fowler stay on her toes. Sometimes, the audience is carefully attuned to the story; at other times, they seem to be there just for the splashy musical numbers. The show sometimes draws audiences composed largely of non-English speakers, which poses an additional challenge.
The Disney organization has been supportive in allowing Fowler to pursue day work: readings, commercials, and series TV spots. She did a guest shot on "Ed," and recently had a "Law and Order" callback. All of this has helped her to feel as though she's not constantly locked in the "Beauty" china closet with the "gotta dance" flatware.
The only times that Fowler has felt listless during the run have been when she's had onstage colleagues who've not taken the show as seriously as she does:
"I'm not playing a teapot; I'm playing a mother whose son is dying. I mean, it's not as grave as all that, but the stakes are really high, as far as I'm concerned. And I get really pissed off when other actors don't really think that--they just think they're there to do the musical numbers. It's a really good story--that's our real appeal. I mean, it's got a lot of the showbiz stuff going for it, but it's a good story."
Fowler believes that some actors just don't have the temperament to cope with long runs. It doesn't mean they're less talented or creative, necessarily. But their boredom can result in some damaging onstage behavior:
"I have worked with very talented actors who, after three or four months, just because of the nature of their personalities, become bored. And they don't know how to work the discipline--they don't enjoy the discipline. They want to be creative, and they play within it, and sometimes it's interesting. But a lot of times, it doesn't serve the piece and the original intentions of the piece."
A good stage manager can step in to "take out the improvements," but that doesn't always happen, according to Fowler. "It's really more up to the integrity of the performers, and that's why I'm really glad that I'm in the ensemble that I am."
Nothing to Sneeze At
Billy Barnes, production stage manager for Charles Busch's hit Broadway comedy, "The Tale of the Allergist's Wife," has worked with long-running productions before in his career. He was, for instance, stage manager on Broadway's "Art," and shepherded it through its various cast changes. But "Allergist's Wife," which opened at the Barrymore Theatre on November 2, 2000, is the longest run ever for Barnes. (He was not with the show for its pre-Broadway run at the Manhattan Theatre Club.)
Barnes--originally from Utica, N.Y.--went into the show not knowing it would have the legs it eventually developed. True, the production drew good crowds from the start. But it was only when Valerie Harper replaced Linda Lavin in the lead that Barnes suspected that he was in for the long haul: "With someone of Valerie's notoriety and stature coming in, I figured the play would continue."
Still, there were iffy moments, even after Harper's arrival--most notably in the weeks and months following Sept. 11. The events of that horrific day also necessitated some script changes from Busch and director Lynne Meadow. The supposed terrorist bent of the organization touted by the inscrutable character of Lee (Michelle Lee) was altered. "They took out virtually every line that had the word 'terrorist' or 'terrorism' in it," says Barnes. "They just thought it was too explosive to even use those words."
At the time, Barnes had actually left "Allergist's Wife," having taken a job with Roundabout's "Assassins"--a show that was, in fact, postponed indefinitely because of Sept. 11. Barnes did see the Sept. 13 "Allergist's Wife" performance and, when it was clear that "Assassins" wouldn't be happening, soon returned to the fold. "That was a very, very emotionally difficult time for the company: number one, to come back after what had happened and try to play a comedy to 200 people in an 1,100-seat house, when you really didn't feel like laughing and weren't really sure the audience did either; and then, on top of that, to have to be rehearsing changes and doing a different show."
There were doubts about the play's continuing viability throughout the winter and again when the entire New York cast recently departed to play the show in Los Angeles and San Francisco. But the replacement cast--headed by Rhea Perlman, Marilu Henner, and Richard Kind--has breathed new life into the play and confirmed its durability, according to Barnes.
Switching the whole cast, however, created far more pressures than did the single substitution of Harper for Lavin. Meadow was on hand to help fine-tune during these transitional rehearsals, but Barnes was responsible for giving basic blocking instructions and making sure the newcomers were all up to speed on their lines.
The wholesale cast change also proved challenging for the show's understudies, says Barnes. "Their performance has to match what's going on on stage currently and not what was going on [with the previous cast]. Some things were very idiosyncratically Linda's--only Linda could do them. Other things were things that only Valerie could do and that Rhea wouldn't copy." All of this, obviously, could be potentially dizzying for those actors standing by.
That first performance with Perlman and the new cast seemed "surreal," according to Barnes. "We'd call the opening cues, and the lights would come up and it would be like, 'Oh, my God! It's Carla--it isn't Rhoda!' "
For Barnes, helping to maintain the day-to-day continuity of the show is one of the most interesting parts of the stage manager's job. If a big laugh line suddenly starts drawing silence, it's his responsibility to figure out why, and to remedy the situation.
"Sometimes moments start not to work or start to go off in a direction that isn't what Lynne and Charles wanted, and then it's up to me to talk to the actors about what is happening and come up with solutions to bring it back to what it was. Sometimes things just evolve and change and grow as a natural product of the actors' creativity in playing the role eight times a week. Things do change and deepen and become more interesting. As a stage manager, you have to know when something is growing in a good direction or when it's morphing into something that's not good for the play. There are a lot of judgment calls that are made."
Never Veldt Better
In order to keep herself fresh in her roles, Sheila Gibbs utilizes a rather nerve-wracking technique. She doesn't quite memorize her lines at first--or, rather, she doesn't over-memorize them. She keeps herself right on the edge of uncertainty during a scene, so that she has to think carefully about her responses to fellow players.
Gibbs is currently in her second year on Broadway in the role of Rafiki in the Disney/Julie Taymor hit musical, "The Lion King." But this isn't her first gig in the show. She was an ensemble member when the musical opened at the New Amsterdam Theatre on November 13, 1997. She stayed with the production for two years before burn out and fatigue set in.
"The Lion King" is an extremely strenuous show for its performers--especially for ensemble members. "The costumes are heavy and the stage is raked," says Gibbs. "There's a lot of dancing and movement." The ensemble is on stage for practically the entire show--changing from lioness one moment to hyena the next, weighed down at other points by heavy African robes. Gibbs suffered some knee injuries and needed a rest.
She was invited to return to the ensemble at the end of 2000 and decided against it. But when she was invited to take on the role of Rafiki--spiritual advisor to Simba, the cub who would be king--Gibbs leapt at the chance like a Taymor-fashioned gazelle.
Eventually, Gibbs' unnerving "verge-of-uncertainty" technique for staying fresh wore off. After repeating the role day in and day out for months, full memorization was bound to set in at some point. But she continues to avoid staleness and boredom, in part because she plays opposite at least two different Simbas every week. (There is a lot of substitution in "The Lion King," in part because of injuries.)
"I never come out with a preconceived notion of how I'm gonna do this--and I don't know how I'm gonna do it. You might have a forceful, aggressive Simba or a soft Simba. So you can't respond the same way. I have to be open to each person, 'cause it's never the same."
The show uses a lot of water on stage, and recently the boy playing the young Simba slipped and fell in a scene in which Rafiki tells him to look at his reflection in a pool. Some improvisation on Gibbs' part was in order: "I said, 'Hey! Stop fooling around! Look down there!' And he was horrified. He saw the ceiling--he saw his feet. You have to be quick and know what's going on. We have props that don't work, or they fall. And you have to respond to that. You can't be like a deer in the headlights, or ignore it."
Besides coping with these daily performance tics, Gibbs finds that the shape of the "Lion King" script itself changes occasionally. Every six months or so, a managing team that keeps track of "Lion King" productions worldwide returns to Broadway to make suggestions, perhaps incorporating something that worked well in one of the other stagings. "The focal points, the meaning of what I'm doing--it's changed," says Gibbs. "So I can always look forward to it: 'Oh-oh, the team has come back! There'll be changes!' And there really are."
Even a new musical interlude--penned by composer Lebo M.--was recently interpolated into one of Gibbs' numbers. She learned it in pieces and gradually worked it into the show.
A spirit of equality and fraternity among the "Lion King" cast members helps things run smoothly at the New Amsterdam. Day to day, virtually no distinction is made between principals and ensemble members. "When there's a birthday party, it's not a 'principal party' on the fourth floor," Gibbs notes. "It's 'Hey everybody, there's cake in room two--come on down!' We put a note on the board, 'Hey, we're having drinks at so and so tonight, come on!'" When a cast member performs at a cabaret or some other special event, principals and ensemble alike turn out to lend support.
Gibbs herself has had a chance to do some outside projects. In May, she appeared in a concert version of "Once on This Island," a show she helped originate back in 1990.
"The Lion King" is, in fact, the third musical for Gibbs that's had a run of more than a year. In addition to it and "Island," she appeared in Joseph Papp's 1971 musical adaptation of Shakespeare's "Two Gentlemen of Verona" with Clifton Davis and Raul Julia--a show that began in Central Park and then moved to Broadway. Gibbs landed the role within two weeks of graduating from college, and the stint proved helpful to her in learning techniques for theatrical stamina: "While acting, I was also learning, so it was really great."
Free to Be... Vous et Moi
With the close of "Cats" on Broadway and "The Fantasticks" Off-Broadway, Cameron Mackintosh's "Les Miserables" takes over as the virtual champ of New York marathon runs. (The Boublil/Schonberg musical opened March 12, 1987--about a month before Off-Broadway's "Perfect Crime." However, Off-Off Broadway's "Line"--now in its 28th year--makes both shows look like young'uns.)
While Gregg Kirsopp, the current production stage manager for "Les Mis," has not been with the musical from the beginning, the show has been part of his life for a very long time: Kirsopp's wife, Marybeth Abel, was with the show as a stage manager for 12 years.
Kirsopp himself began his career as a performer, but left acting after the national tour of "Me and My Girl" in 1989. Afterward, he landed a job as an account executive at a small television station in Dayton, Ohio, but the difficulties of maintaining a long-distance marriage eventually brought him back to Manhattan. Kirsopp worked as an assistant stage manager with "Les Mis" for about 10 years (taking off for about five months to work with Broadway's revival of "Grease"). He's been the lead production stage manager for a year and a half.
For the 10th anniversary of "Les Mis," in 1997, co-directors Trevor Nunn and John Caird agreed to revamp the show for producer Cameron Mackintosh. Many actors who'd been with the production for years were discharged. Says Kirsopp, "It was hard. I will say that. Because you make a lot of friends and companions, and to see a lot of them losing their jobs was hard. But in hindsight, I won't say it was the right thing to do, but it was a logical choice. Because the story we're trying to tell, we're talking about students in their teens. When you have 30- and 40-year-old guys out there, where the hair loss is starting to happen, et cetera, it's a little hard to believe."
With the 1997 restaging came some freedom for ensemble members that makes "Les Mis" unique, perhaps, among large-ensemble Broadway musicals. Caird advised the new cast that they should each come up with three different deviations from their usual routine for each show. If an actor was blocked to enter a scene from stage right, for instance, he could opt to come in from stage left.
"In some scenes, there are specific marks they have to be at to sing their line or whatever they have to do," Kirsopp explains. "In those 'between' times, it's basically up to them to create."
Considering that there are 31 performers on stage, each executing three new choices, that makes for a potential 93 variables at any given performance. Certainly there's the possibility of collisions or other disasters. But Kirsopp claims that major problems have been averted. And certainly, as a consequence of Caird's edict, no two performances of "Les Mis" are ever quite the same--and the actors are kept alert and thinking about the story.
If things do start to get chaotic, or if the choices that some cast members make don't seem right for the show, it's up to Kirsopp--along with resident director Jason Moore--to rein things in. "We're basically the overseers--to make sure people fall within the guidelines."
Replacement cast members for "Les Mis" may be a bit puzzled during the "put-in" rehearsals when they find that the blocking they've just been taught isn't being followed by the show's veterans. But they tend to catch on to the system quickly. The put-in period for ensemble members lasts two weeks. The blocking is accomplished in the first week, so that the second can be devoted to review and to putting the performances on their feet.
Since the 10th anniversary, the show has tended to refresh and renew itself through attrition: Only three or four cast members from the revamped show still remain in the cast. As for crew members, head carpenter Ron Fedeli, who joined the show about six months after its 1987 opening, has the highest seniority. There are a handful of musicians who have played with "Les Mis" since day one.
As for Kirsopp himself, he stays fresh because he loves Victor Hugo's story, and because he actually enjoys the put-in rehearsal process. And, of course, when problems arise, he can always get a second opinion from his wife.
"Even today it's helpful. 'Cause she also was there through that 10th anniversary experience. So a lot of times we're bouncing ideas off of each other. Like, 'Hey, this is what's happening down at the theatre' or 'Do you remember what John Caird or Trevor said about this scene?' She can remind me of stuff that I've forgotten."
Still Naked After All These Years
Some theatrical roles are like onions--the more you peel them back, the more layers you discover. But what about roles where you're already peeled back--all the way to your skin and your smile?
Patrick Herwood can tell you about that. He's been with the Off-Broadway production of "Naked Boys Singing" since it opened on July 22, 1999. Herwood began as a "three-man" understudy and assistant stage manager. About seven or eight months into the run, the producers asked him if he'd like to assume one of the performing "tracks" in the show. Except for a five-week break to appear in "The Will Rogers Follies" in Maine and Cape Cod, he's been with the popular musical-naturist romp ever since. In addition to performing, he's also assumed the title of dance captain.
One reason Herwood accepted the role was that he wanted to settle down and see what living a semi-normal life in New York City was all about. He'd recently finished a tour of "Big"--the last of five excursions on the road.
Currently, two other performers from the original cast appear in "Naked Boys," but they've both taken longer breaks than Herwood. Having new blood in the cast helps keep a long-frozen show from seeming chilly, Herwood maintains. "The really terrific thing about 'Naked Boys' is that it's a musical revue, and we are really encouraged to make our particular numbers our own. So the show has changed in that sense. Every time somebody new comes in, they have a different take on the number (or couple of numbers) they do and they really make it their own."
The performing tracks in the show never change--each replacement performer takes up the songs and actions of the departing player. The producers initially considered experimenting with breaking up the tracks, but they learned that under Equity rules, it was impossible.
Herwood has his own ways of combating fatigue and staleness. It's mostly a question of attitude adjustment.
"I've done the show so many times and in so many conditions. I mean, sometimes I've gone out there just feeling that I was dog tired, and sometimes feeling like I was vocally stressed, and sometimes just downright sick. And for whatever reason, you have to go on that night. I know that I can do that. I've conquered that. I know that whatever happens, I can go out there and I can turn it out. So, yes, of course, the challenge of the job is to keep it fresh, to not get really bored. At least not to let the audience know that you are bored. It's so easy to fall into 'muscle memory' and just phone it in, so to speak."
Going back and reviewing the material, listening to rehearsal tapes, and reading the lyrics from his solo number, "Window to Window," all prove to be helpful tactics. "I remember what about the song it was that I fell in love with, way back in the beginning, three years ago."
Being dance captain also helps break up the monotony. Herwood is regularly auditioning new performers, teaching them dance combinations, and working them into the ensemble. The one drawback to the dance-captain job is that it seldom affords him the time to do other readings or cabaret spots or film and TV jobs on the side. However, he, along with the entire "Naked Boys" cast, remains dedicated to Broadway Cares activities, such as the Easter Bonnet competition in the spring and the "Gypsy of the Year" event in the fall. "It gets the guys together," he says. "It gives them the chance to do something else, performing-wise."
Herwood claims that there are very few personality conflicts among the band of nude crooners. Those that do crop up are usually resolved quickly.
"It's a very small cast in a very small theatre, so we're really right on top of each other. And on top of that, we're naked. So we really have to do our best to keep [interpersonal] problems in check. Due to the nature of our show, obviously, we have to have a sense of humor. We don't take ourselves very seriously. I mean, what's funnier than a naked guy jumping around, come on?"
Still amazed that the show he thought would be a "cute little summer job" has turned into a marathon, Herwood has no plans to leave "Naked Boys" soon. He feels the show has helped him become a more disciplined performer.
"Being in a long-running show for a long time provides you with different skills, I think. It lets you build those skills and know what it is to have to go out there and 'Turn it out again, boys, turn it out!' It's a good thing. It's a really good thing."