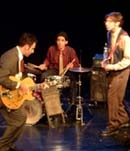 "Ain't got time to waste, I got carrot to chase!"
Crossing a broad swath of the American musical landscape, Weiner and the Red Lights's show "Piano Punk and Hokum!" is an exhilarating 90 minutes of foot-stomping, heart-breakin' entertainment. Just one of the 15 original tunes composed by pianist/lead singer Adam Weiner would be the envy of any songwriter, but combined together and performed by a single group, it's an astounding tour de force.
The talented trio worship at the church of American music, and their love of all its various forms -- from Hoagy Carmichael jazz to Ricky Nelson rockabilly to Jerry Lee Lewis piano rock, with splashes of torch songs, country blues and spirituals thrown in -- keeps the audience entralled from tune to tune. Hot on the heels of their recent CD "Rough Draft," the group -- including the sharp Raky Sastri on drums and versatile David Pinzur on bass -- has put together a hearty collection of new songs for this show.
Highlights include the wildcat "Shit, Shower and Shave"; the rollicking "Up Too Fast"; the beautiful and delicate "In the City" and "The World Has Fucked Me" (with vocals reminiscent of the late Jeff Buckley); and the transcendent "Hey Molly" and "Carry You Down." The closer, "Shine a Light," is like a beautiful prayer, with lyrics that feel like a hopeful response to the 9/11 attacks.
Although the band seemed a little ragged at times, and one or two songs felt unfinished, the raw talent and passion of these three performers more than make up for it. A delight.