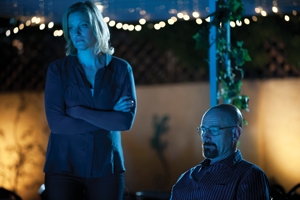 Every year during pilot season, the networks place orders for 50–100 new projects that, if picked up, can offer job security in an industry where long-term gigs are in relatively short supply. So casting directors, like actors, put a lot of time and work into preparation. Just as actors go in to audition for roles in front of the casting team, casting directors must interview with the producer, director, and writer of a pilot to land the job.
Sharon Bialy, who, with her partner, Sherry Thomas, casts the AMC series "Breaking Bad" and "The Walking Dead" as well as CBS drama "Vegas," is casting two pilots this season: "Under the Dome" for CBS and "Halt & Catch Fire" for AMC. She sees many parallels between actors and casting directors when it comes to pilot season. "Sherry Thomas and I do an enormous amount of preparation," says Bialy, author of the recently published e-book "How to Audition on Camera." "We read the script multiple times before we go in; we write lists of actors that show our aesthetic and creativity; we research the writers' and producers' previous work. For the pilot 'Under the Dome' that we're doing right now, I actually drew out a family tree of how [the characters are] all connected and brought that in to our interview."
Also, when it comes to hiring casting directors for pilots, the process can move very quickly. CDs might get the script only a day or two before their interview, so they have precious little time to familiarize themselves with the material. For an actor, the feeling is a familiar one.
"Under the Dome" has already been given a full series order, but casting a pilot doesn't guarantee you'll cast the series. "It's the same as with an actor," Bialy says. "The studios actually have an option on your services to cast the series. So what you hope is that if you do a good job, and the series gets picked up, they will pick you up. But that doesn't always happen."
In yet another parallel between the experiences of actors and casting directors during pilot season, a trend has emerged this year that has seen the networks and studios move early—before an official green light—to secure the services of established casting offices for high-profile pilots. So whereas CBS has contracted Anna Faris to star in its comedy pilot "Mom" and locked Brandon T. Jackson into the lead for the "Beverly Hills Cop" reboot, it also attached Bialy/Thomas to "Under the Dome" more than a month before the traditional crush of mid-January.
It works both ways. Just as more established actors have earned the privilege of choosing a project during pilot season out of the multiple offers they receive, so too with CDs who have a proven track record of success in series casting. "I don't take any pilot that comes our way," says Bialy. "I work hard to pick my material carefully, because I'm in a very fortunate place where I can do that, and I believe it all starts with a great script."