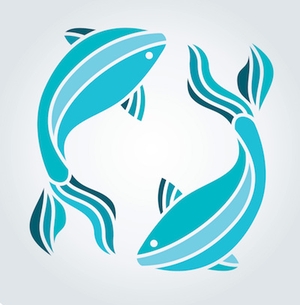 PISCES (February 19 – March 20)
Pisces has been getting a lot of cosmic attention with the New Moon Solar Eclipse in your sign at the end of February and a cluster of planets now transiting in your 1st House of Expression. The days of anonymity are over! It's like the Cosmos has been throwing you a party, seducing attention your way and playfully demanding you put your best foot forward. You'll be a hard presence to ignore, so soak up the attention while the spotlight catches your best light.
Illustrious Neptune and busy bee Mercury join forces in your sign, netting a flurry of opportunities to use your creative voice and participate in some sort of leadership positon. I would just suggest being a little circumspect and discerning only because the filters are so wide for you right now and you don't necessarily want to take the first thing that jumps out of the cosmic gift bag. Just remember your boundaries, sweet space child, and to refill yourself by pursuing things that fling your had back in joy. This is just the beginning. Your magical, open energy is a precious resource and not to be frittered away on the half-empty.
Another thing worth mentioning is that your 2nd House of finances is on fire (in a good way) with trio of planets that spell unexpected sources of income. Mars (until March 9), Uranus, and Venus are all transiting this bread and butter house, and on March 13, Mercury joins the already-combustible mix of energy. Be open to anything. It may even be through a partner's windfall because of the lucky Jupiter opposition lighting up your 8th House of shared resources. This cup-runneth-over streak may peak around March 25 when the all-powerful Sun joins attractive Venus in your moneyed 2nd House. Meet this energy halfway by investing, donating, or even curbing excesses, no matter how small. Anything that signals to the forces that you're not only an abundant builder of wealth with more than enough, but also that you're paying attention.
While there's definitely a wild card element for everyone this month, a preponderance of planets on the east side of your chart is saying that self-directed action will be met with manifestation. If you throw some noodles (take action, try things), you'll most like end up with a heaping plate of spaghetti (bowl filled, receive gifts). Capice?
Kelly Chambers is a writer, actor, and astrologer living in Los Angeles. She can be reached for private astrology readings through her website theastrologersdaughter.com. You can also check her out in the web series "Break Hollywood with Nice & Fargo," a comedy by actors for actors. Follow the latest in cosmic news on her Instagram and Twitter. She welcomes your comments and insights.
Ready to see what else March has in store for you? Check out our film audition listings!
The views expressed in this article are solely that of the individual(s) providing them,
and do not necessarily reflect the opinions of Backstage or its staff.