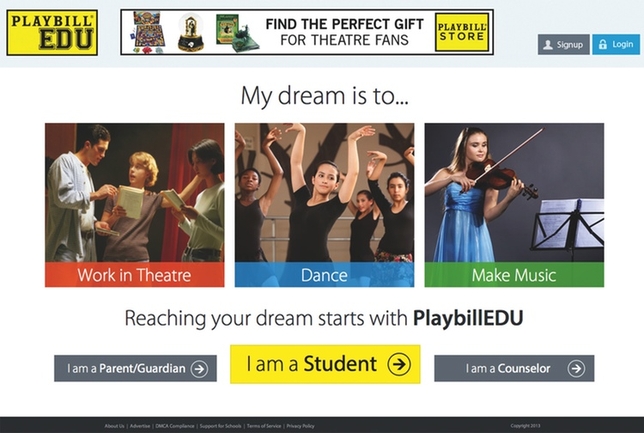 Thanks to TV series such as "Glee" and hit Main Stem franchises such as "The Book of Mormon," interest in Broadway has been invigorated in a new generation of theater lovers. At 129 years old, Playbill, the venerable yet thriving statesman of theater publishing, seeks to guide young passions with a new website that aims to help prospective college students choose the right school to pursue their performing arts dreams.
The result of three years of extensive information gathering, the site, PlaybillEDU.com, is a virtual clearing-house for information about more than 2,000 college performing arts programs. It launched on July 23. In addition to being a massive, neatly cataloged repository of up-to-date information about drama, dance, and music programs, the website offers tools aimed at parents and guidance counselors for organizing and comparing information, tracking deadlines, and applying for scholarships.
Overseeing a publishing empire that prints 4 million magazines a month, Playbill publisher Phil Birsh said the idea for PlaybillEDU.com was born out of his frustration in searching for a school for his own children.
"The truth is, I went through this with two kids, and I said to myself, 'It really would be helpful to keep all this in order,' " he said.
The average student considers six schools before choosing one, creating an information jumble of degrees, costs, financial aid opportunities, demographics; the theaters, concert halls, and performance opportunities offered by each also factor into the equation, he said.

Robert Viagas, who spearheaded the project and serves as executive editor of PlaybillEDU.com, said one look at the quixotic dilemma facing students was all he needed.
"We saw a crying need for solid, reliable, comprehensive, and impartial information about colleges and universities that offer performing arts programs," he said. "Finding the right program is like finding the right spouse. A good match is essential. It's too bad kids have to make this life-changing choice so early in life with so little comprehensive, impartial information."
The site's services will be free for students, parents, guidance counselors, and participating schools, Birsh said, generating revenue solely through banner ads. The ads will likely come from companies that target the needs of students visiting and enrolling in colleges for the first time.
"It will be an excellent website for Playbill as a financial return," he said. "All the banners on our other sites are sold out, so we needed the space."
Birsh as publisher and Viagas as creator originally launched Playbill's online news service, Playbill.com, in the dial-up doldrums of 1994. Together they have been honing the iconic yellow-and-black banner's Internet presence for nearly 20 years and say innovative, free services will continue to be part of the business plan even though the printed end of Playbill's publishing business not only weathered the storm that has ravaged magazines and newspapers in the last decade but continues to increase its circulation.
Another of the company's latest free offerings, PlaybillVIP.com, allows high school and community theaters to create their own official virtual Playbills to promote their local productions and even sell advertising. They can print the Playbills themselves, pay the company to print for them, or keep them digital in spaces such as Facebook and Twitter.