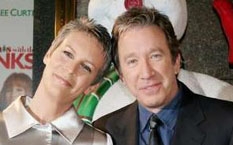 "People say, 'You're funny to hide your feelings,'" quips comic Tim Allen. "I can be funny with my feelings. I can be funny when I'm slammed at corporate meetings, and I can be funny when I'm feeling very bad at funerals."
One thing is certain: Allen reveals multiple feelings beneath his humor in the film "Christmas With the Kranks," a family comedy slated for national release on Nov. 24. Allen, who co-stars in the picture with Jamie Lee Curtis, plays the put-upon Luther Krank, who decides to skip the Christmas festivities when Blair, his 23-year-old daughter, joins the Peace Corps and will not be home for the holidays. Instead, he plans to take his wife (Curtis) on a Caribbean cruise and sees no reason to give gifts or even to decorate his home with lights. His neighbors are incensed. The aggressive local busybody, Vic Frohmeyer (Dan Aykroyd), galvanizes the town and it gangs up on the hapless Kranks. At the last moment, Blair calls to say she is coming home for Christmas after all. The Kranks have less than a day to pull it all together and chaos reigns. There's also a fair degree of sentiment at the end, as Luther Krank makes a personal sacrifice and the community comes together.
Despite the lighthearted tone, the movie touches on some serious issues: forced holiday hilarity and mob rule. And the question remains: Is Luther a Scrooge or is he, in fact, a victim?
"Luther is a victim, but there's a caveat because his motives are not clear," notes Allen, a 51-year-old Denver, Colo., native best known as TV's bumbling Mr. Fix-It, Tim Taylor, on the popular sitcom "Home Improvement" (1991-99). "In some ways, I see this as an empty nest story," Allen continues. "Luther really misses his daughter. Twenty-three years of Christmases are over. He's close to the vest and can't talk about it. The only way he can deal with his loss is to cancel Christmas. He starts pulling away from others and then he crosses the line when he snubs his neighbors by refusing to light up his house for the holidays."
Allen, who meets with me in a Midtown hotel room, acknowledges that playing Luther presents some challenges, not least "his rather dramatic turn at the end, without the pipe being laid. His change occurs suddenly, but that can happen in life, too."
And then there were the physical challenges, like being doused with water during a rain sequence. "The water went down my back, it was chilly, and it smelled," Allen recalls, clearly not amused even in retrospect. "My irritation in that scene was genuine."
But the most daunting scene featured the Kranks, sporting abbreviated swim suits, in a department store sunning salon.
"I've always felt vulnerable and stupid in bathing clothes," Allen says. "Even as a kid, it made me uncomfortable. And here I am, shooting this scene in a mall with all these people off in the background taking photos of me, the grips are all around me, and Tom Poston [who plays the minister] is staring at me."
A.A.D.D.
Interestingly, despite Allen's easygoing style on screen, in person he is guarded and not happy about being interviewed. Indeed, he suggests that it's all a little alien to him, although certainly he has been profiled before. "I have A.A.D.D. [adult attention deficit disorder]," Allen explains. "I know you people have a job to do and we have to promote the film‌." He shrugs, leaving the sentence unfinished.
Allen doesn't offer much about his own life, short of saying he is a single father with a teenage daughter and has a girlfriend, whom he refers to as "my woman." And Christmas celebrations with his family take place in his mother's home, which Allen has built up to accommodate his large extended clan for its yearly three-day Yuletide holiday. "We like each other, we talk to each other, and we argue about politics and theology," he says. "I have no problems with Christmas, except that the preparations get earlier and earlier each year."
Allen has broad-based appeal. For his work in "Home Improvement," he earned a Golden Globe Award, an Emmy nomination, and People's Choice Awards for favorite male television performer for an unprecedented eight years in a row. He garnered another People's Choice Award for his performance in the film "The Santa Clause." Other film credits include "Jungle 2 Jungle" with Martin Short, "For Richer or Poorer" with Kirstie Alley, "Galaxy Quest," "Jim Somebody," and Barry Sonnenfeld's ensemble comedy "Big Trouble."
Allen gave voice to the space ranger Buzz Lightyear in the computer-animated smash hits "Toy Story" and "Toy Story 2." He has also penned two best-selling books about the male perspective, "Don't Stand Too Close to a Naked Man" and "I'm Not Really Here," which focuses on such topics as midlife crisis, the family, and quantum physics. The latter is of particular interest to Allen.
From Stand-Up Comic to TV Star
His current success notwithstanding, Allen has not had an easy time of it. One of ten brothers and sisters, he was born Timothy Allen Dick, his last name the source of much mockery from other kids. When he was 11, his father died in a car crash and his mom remarried, moving the family to a Detroit suburb. Allen was the class clown. "A comic is an observer who has awakened a little earlier than others," he says. "It's an acquired skill."
From the outset, Allen had a deep ambition to be sitting alongside Johnny Carson on "The Tonight Show," but ultimately graduated from Western Michigan University with a degree in television production and made his living creating brochures and designing window displays at a sporting goods store.
And then his life changed when he accepted a dare to perform. "A friend of mine said, 'You're going to be stacking sweaters for the rest of your life. You couldn't be a comic if you tried.' And that did it. I wrote a 30-minute piece and performed it at Detroit's Comedy Castle. The first ten minutes I bombed, but afterwards I started getting lots of laughs and the club owner said getting those laughs the first time out was unusual. And I was invited back."
Allen's budding career was interrupted when he was busted for cocaine dealing and sentenced to 15 months in federal prison. When he was released, he launched his stand-up comedy career in earnest.
His signature soon became his "Men Are Pigs" routine, which focused on the childlike (yet phallic) pleasures of the almost inarticulate, relentlessly grunting blue-collar worker, playing with his power tools and feeling mighty empowered.
Allen was popular on the nightclub circuit, which led to a series of televised specials on Showtime, in turn leading to "Home Improvement," loosely inspired by his stand-up persona: the goofy, macho jerk.
Acting on television was a new ballgame, Allen admits. Suddenly he was called upon to sustain a character, something he had never done before.
"But innocence is bliss," he remarks. "They sent me to an acting coach and I soon learned that all I had to do was to memorize the lines and not try to be funny. That was the trick."
Typecasting
Tim Taylor was one of a number of blustering macho fools who graced the sitcom world in the 1990s. In contrast to his highly competent wife (played by Patricia Richardson), Tim was hopeless. In fact, the show made it clear that she was far more capable than he in virtually everything.
Allen suggests that there was "simmering rage in Tim Taylor. He was misogynistic, and like many misogynistic men, he had an inherent respect for women. Misogynistic men love women and are afraid of them. The fear drives the misogyny. The only time these men feel self-actualized is when they're building something. The only place Tim Taylor felt in control was in his work environment, where he had girls with large boobs that he could order around.
"But at home, he couldn't get away with that. Next to his exemplary wife, he was dumb. He played dumb. I think a lot of men play dumb to get what they want. They stay out of their wives' way by being the fool and in return they get chits."
Luther Krank is a far cry from Tim Taylor, yet both are everymen.
Jamie Lee Curtis believes that co-star Allen is an everyman, "and although Tim plays a curmudgeon in the movie, he is also the voice of reason. He brings his innate intelligence and genuine warmth to the role."
Screenwriter Chris Columbus agrees, adding, "Tim brings a sense of reality to what he does on screen. He feels real and the audience connects with that."
And he is fun to work with. "Tim keeps us laughing until the cameras start rolling," notes Dan Aykroyd. "And it's difficult not to laugh when they do. Tim is a premier comic thinker."
But Allen is ambivalent about his funny man image: "It's powerful to move an audience to laughter and it is great when someone says, 'I've had a very dark time, until I saw your movie.' But it's not all that great for me. My brand is my problem. As Martin Short once said to me, 'You have a contract with your audience to be funny.' And they don't want to see me transition out of that." Neither do the producers. "The few dramatic movies I've done, they've turned into comedies, and those that I've wanted to do I haven't done."
Next time out, Allen will be seen in another comic film, "The Shaggy Dog," a remake of the 1950s family classic. But if he had his druthers, he'd also be starring in a sci-fi flick he penned for himself but has not yet sold. "There's no comedy here," he says. "It's about a guy who can do whatever he wants, which ultimately becomes boring and then deadly."