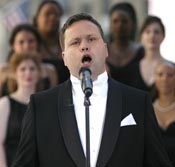 By Michelle Nichols
Just five months ago, amateur opera singer Paul Potts was mired in debt and selling cell phones in Britain. Now he has a hit album and is due to tour the world.
Potts, a stocky 37-year-old Englishman with crooked teeth, entered and won the "Britain's Got Talent" television show in June in front of more than 13 million viewers and then signed a recording deal reportedly worth $2 million.
His debut album, "One Chance," has topped charts around the world including Britain, Australia and New Zealand.
"I have done more things in the last four months than I would ever have expected to do in my whole lifetime," Potts told Reuters in an interview. "It's mind-boggling."
Now his teeth are fixed, although he vows he won't end up with a "full mouth of veneers," he wears designer suits instead of the $70 suit he donned for his initial audition and he is ready to crack the United States.
"One Chance" was released in America on September 18 and has already sold nearly 70,000 copies. He has appeared on television's "The Ellen DeGeneres Show" and filmed an appearance for "The Oprah Winfrey Show" due to be broadcast next month.
"I never believed that I would end up doing this for a living," said Potts. "I wasn't sure whether I really had it because I always felt that to get anywhere in it I would need to have proper formal training and I couldn't afford that."
Potts said he had been singing most of his life and had private lessons "when I could afford them."
He also used hard-earned savings to spend a couple of months training in Italy, where he had the chance to sing for one of opera's greatest tenors, Luciano Pavarotti, who died in September.
Cinderella Story
After his performance, Pavarotti told Potts "not to run out of breath at the end of an important phrase" and then asked him to sing again.
"I was the only one who got to sing twice," said Potts, who used to perform in unpaid amateur operas.
When he returned to Britain, Potts said he sent off some tapes to agents. But nobody even acknowledged receiving them, so he figured he wasn't good enough.
Then he suffered a string of health problems -- a burst appendix, a tumor on his adrenal gland and a broken collarbone when he was knocked off his bike by a car -- that crippled him financially and stopped him from singing altogether.
"We were literally using credits cards to buy food," said Potts, who lives in Port Talbot, in south Wales, with his wife Julie-Ann. He said his success has allowed the couple to pay off nearly $80,000 in debts.
Now he struggles to comprehend why so many people want to see him perform. His appearance in Denmark last month drew tens of thousands of people even though he sang only two songs.
"That's bonkers, that's just crazy ... . Are they mad?" he said.
Next year Potts will tour Britain, Australia, New Zealand and Scandinavia singing songs from "One Chance," which includes "Nessun Dorma," known as Pavarotti's most famous aria.
As well as more traditional opera fare, his album includes some unusual arrangements -- a Spanish rendition of Frank Sinatra's "My Way" and an R.E.M. hit, "Everybody Hurts," translated into Italian and sung in an operatic style.
"At the time I was unconvinced. But I never ever say no to something until I have tried it. In the end it turned out quite well, it's one of my favorites," he said of the R.E.M. song.
As for the next album, which he hopes to start working on next year: "I always used to enjoy doing Queen on karaoke."
"One that would work really well is 'Who Wants to Live Forever,' a classic tune," he said.
---
COPYRIGHT: (c) Reuters 2007. All rights reserved. Republication or redistribution of Reuters content, including by caching, framing or similar means, is expressly prohibited without the prior written consent of Reuters. Reuters and the Reuters sphere logo are registered trademarks and trademarks of the Reuters group of companies around the world.