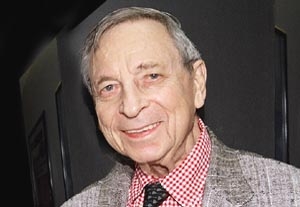 Sheldon "Shelly" Gross, Broadway producer and co-founder of the Guber-Gross entertainment circuit with Lee Guber, died June 19 at age 88 in West Palm Beach, Fla., after a long battle with illness.
Gross began his career in broadcast journalism. In a 1976 New York Times interview, he described himself as "looking for a way to escape" when he was asked to emcee a luncheon with the cast of the original Broadway production of
The King and I
. Gross said he was so entertained, "I decided that what I really wanted to do was start a musical theater."
The Guber-Gross entertainment circuit commenced production in 1955, luring mass audiences to outdoor tent theaters, first to Westbury Music Fair on Long Island and Valley Forge Music Fair outside Philadelphia and later to theaters outside of Washington, D.C. and in suburban Baltimore. Along with their third partner, Frank Ford, Guber and Gross built the largest group of year-round superstar theater chains in the country.
The Music Fairs booked entertainers such as Liza Minnelli, Judy Garland, Stevie Wonder, Dionne Warwick, and Liberace and also brought their own productions of Broadway titles to Guber-Gross theaters, including
Fiddler on the Roof
with Zero Mostel,
Gypsy
with Angela Lansbury, and
Cabaret
with Leslie Uggams.
Gross also produced a string of Broadway shows, including the original musicals
Sherry
!, starring Dolores Gray and based on
The Man Who Came to Dinner
;
Lorelei
, a reworking of
Gentlemen Prefer Blondes
with some new songs by Jule Styne, Betty Comden, and Adolph Green and Carol Channing re-creating her famous role of Lorelei Lee; and
Bring Back Birdie
, the short-lived sequel to
Bye Bye Birdie
. His musical revivals on the Great White Way included
Camelot
with Robert Goulet as King Arthur in 1993 and the smash hit 1977 production of
The King and I
with Yul Brynner and Constance Towers, which ran for 695 performances. (In a casting coup, when Brynner took his vacation, Gross brought in Angela Lansbury to play Anna Leonowens. Alas, the two stars never played opposite each other.) Gross produced two unsuccessful Broadway plays,
Catch Me If You Can
and
Murder at the Howard Johnson's
, and presented numerous stars in concert on Broadway, including Tony Bennett, Lena Horne, Charles Aznavour, Patti La Belle, Barry Manilow, Victor Borge, and Shirley MacLaine.
Born in Philadelphia on May 20, 1921, to Samuel Gross, M.D., and Ana Rosenblum Gross, a teacher, Gross attended Central High School, where he met longtime business partner Guber. "I wonder," said Gross in a 1972 interview with the Philadelphia Inquirer, "what would have become of my life if I had been sitting next to Schwartz."
During World War II, Gross served as a communications officer in the South Pacific and immediately afterward earned a master's degree in journalism from Northwestern University. He began his career working at a radio station in Atlantic City, then moved back to Philadelphia, where he became a popular TV personality and won the 1954 TV Guide Announcer of the Year award before becoming a producer. He was also a published novelist, with the books
Havana X, Roots of Honor
, and
Stardust
to his credit.
Gross is survived by his wife of 63 years, Joan Seidel Gross; sons Byron, Dan, and Rick; four grandchildren; a niece; a nephew; and a goddaughter. A memorial service in his honor is planned for late July in West Palm Beach. All donations will benefit the Palm Beach Dramaworks theatre company, for which Gross served as a fundraiser and mentor in his retirement.