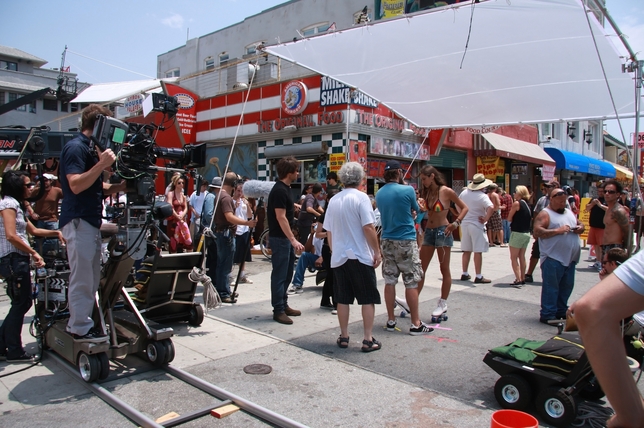 Los Angeles actors can unpack their bags and cancel their flight reservations for New Orleans and Atlanta. Production continues to pick up in southern California—at least when it comes to television, according to a new report.
Television is a coveted production category because it employs a myriad of actors and crew for extended periods of time. After a steady bleed of production flight over the last several years, L.A. has begun adding more TV series in recent months. In fact, regional on-location TV production increased 31.1 percent in the third quarter over the prior year, totaling 5,363 permitted production days (PPD) for 2014, FilmL.A., which coordinates permitting for local productions, said Tuesday.
"While we are still trying to reclaim our share of television production, we're encouraged by dramatic television producers' interest in filming in Los Angeles," Paul Audley, president of FilmL.A., said in a statement. "With the new tax credit taking effect next July, we see strong potential for growth in local TV work ahead."
Nearly all TV subcategories were up last quarter, which ran July 1–Sept. 30. TV Dramas saw an increase of 43.2 percent with 1,408 PPD, TV Reality rose 49.2 percent to 2,019 PPD, Web-Based TV went up 12.3 percent to 401 PPD, and TV Pilot production rose 40.8 percent to 138 PPD. TV Sitcoms, which make up a small portion of Television filming days, declined 29.0 percent for the quarter to 367 PPD.
Dramas that received the state's tax incentive and shot around L.A. include "Rizzoli & Isles," "Pretty Little Liars," "Major Crimes," "Perception" and "Legends."
Feature production went the opposite way of television, dropping 4 percent compared to the same quarter last year with 1,881 PPD. Still, that could soon change. California recently beefed up its film and TV tax incentive from $100 million to $330 million a year for five years beginning with fiscal year 2015-16.
Want more L.A. news? Sign up for our Backstage L.A. newsletter!