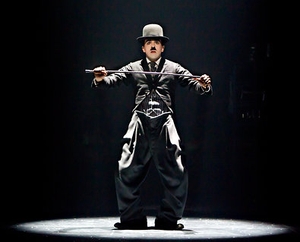 With the bus and subway systems only partially working and traffic in a state of near-total congestion, producers from some of Broadway's biggest shows offered a silver lining to weary theatergoers in the form of post-Sandy ticket specials. While debris might still be on the streets and your basement still flooded, this could be the best and cheapest time to check out the theater district's offerings.
The producers of the new Broadway musical "Chaplin" are helping to get things moving again with their "buy one get one free" ticket deal for the Nov. 1 and 2 shows at the Barrymore Theatre. The special is available for every price level. Producers also announced half-price tickets for the Nov. 3 and Nov. 4 performances.
"Nice Work If You Can Get It," starring Matthew Broderick and Kelli O'Hara, is offering discounts for residents of the 14 states affected by the hurricane for shows tonight and tomorrow. The tickets—which normally range from $47 to $137—cost $37, with a maximum of two tickets per person. An ID proving that the ticket buyer lives in one of the affected states is required for purchase.
The Roundabout Theatre Company is letting patrons purchase $20 tickets to "Cyrano de Bergerac" and "The Mystery of Edwin Drood" by simply showing a MetroCard. Tickets to both shows usually start at $42.
"The Performers," starring Henry Winkler, Alicia Silverstone, and Cheyenne Jackson, created a "Sandy Special." Top tickets were marked down to $29.50.
Other companies have become especially generous. The York Theatre Company is offering free tickets to its acclaimed Off-Broadway revival of "Closer Than Ever" Nov. 1 for anyone who had tickets to a canceled performance. The Assembly Theater Project is hosting a staged "flashlight" reading of "home/sick" as the theater is still without power. Instead of charging admission, the Project is asking patrons to donate what they can to a hurricane relief fund.
Broadway, and much of Off-Broadway, was shuttered on Tuesday and Wednesday, but a trip to Times Square and the theater district today reveals a neighborhood that appears back in almost full swing.
"New Yorkers are famously resilient, despite even the most difficult challenges. They always bounce back," Joseph P. Benincasa, president of The Actors Fund, said in a statement. "People in entertainment and performing arts are just as tough. We all know it takes guts to survive the ups and downs of this business."
Benincasa did note, however, that the Fund has been receiving calls for emergency financial assistance, last-minute work, and access to medical care. It appears the reach of Broadway has been dampened by the storm, as well. While TKTS announced on their Twitter account yesterday that their Duffy Square booth was open, both their South Street Seaport and Brooklyn locations remain closed. The Public Theater also announced that they plan to cancel all Nov. 1 performances, as their building still has no power.