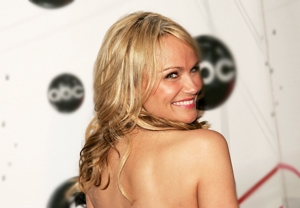 NEW YORK – Forget "Mad Men."
The '60s will live again on Broadway next spring in a revival "Promises, Promises," the musical based on the Academy Award-winning movie "The Apartment."
The musical will star Sean Hayes as an ambitious insurance company employee who lends his apartment to company executives for romantic flings and Kristin Chenoweth as his love interest.
Producer John Gore said the production will open April 25, 2010, at the Broadway Theatre with preview performances beginning March 28.
"Promises, Promises" features a book by Neil Simon and a score by Burt Bacharach and Hal David. The musical will be directed and choreographed by Rob Ashford. Among its best known songs are "I'll Never Fall in Love Again," made popular by Dionne Warwick; "Knowing When to Leave" and the title tune.
Hayes, who will be making his Broadway debut, is best known for playing Jack on the television series "Will & Grace." Chenoweth last appeared on Broadway in the 2006 revival of "The Apple Tree" and was Glinda in the original cast of "Wicked."
The original "Promises, Promises," which starred Jerry Orbach and Jill O'Hara, opened on Broadway in 1968 and ran for more than 1,200 performances. The film, which won a best-picture Oscar, starred Jack Lemmon, Shirley MacLaine and Fred MacMurray.
---
Copyright 2009 Associated Press.  All rights reserved.  This material may not be published, broadcast, rewritten, or redistributed.