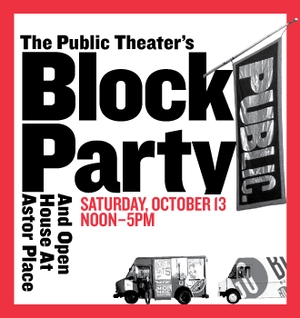 The Public Theater in New York's Astor Place revealed the fruits of its $40 million revitalization project at a star-studded rededication ceremony on Oct. 4. But don't think the festivities are over. This weekend, the Public is throwing a free block party of epic proportions this Saturday on Lafayette Street between Astor Place and East 4th Street.
The event will serve as an "anchor" for eight weeks of community events that will mark a rededication to the theater's founding principles and will offer musical and theatrical performances, great food, and, of course, the opportunity to check out the newly-renovated facilities.
"The Public is open, and we're inviting everyone in the city to come take a look," said the theater's Artist Director Oskar Eustis said in a release. "Joe Papp believed that the theater belonged to everyone, and this renovation of our home building is designed to create a lively, welcoming center for people to meet, gather, and celebrate."
With the impressive line-up of performers scheduled for Saturday, the atmosphere will certainly be lively and welcoming. There's no doubt that the block party will honor Mr. Papp's vision.
One of the block party's star performers will be Sasha Allen, the singing superstar who's sung back-up for Alicia Keys and Christina Aguilera, and also played Dionne in the Tony-winning revival of "Hair." Allen, who has also performed at Joe's Pub (a musical venue at the Public), says she was thrilled when the Public asked her to participate in this weekend's celebration.
"After doing the first show [at Joe's Pub], it kind of feels like you get hooked, and you want to do another one and another one," Allen told Backstage. "And when they actually asked me to be a part of this, I was so excited because I've had a history with them. I was so honored that they asked."
Allen also offered a sneak peak of the musical performance she'll be giving.
"It's going to be some covers," she said. "I would say it'll be things that I enjoy most, so it'll go from rock to soul. And I guess I can really just let my hair down and be completely myself. [I'll go] from Queen to Whitney. That's the kind of performance I'm going to be giving."
Aside from Allen, musical performances at Saturday's block party will include jazz/blues ensemble Jessy Carolina & the Hot Mess, famed banjo player Tony Trischka, and the Afro-Colombian, "punk-jazz" band M.A.K.U. SoundSystem.
But since the Public is, first and foremost, a theater, the performances don't stop at music. Block party guests will also be treated to previews of the Public's upcoming theatrical productions, set to open in the 2012-2013 season. These include "Giant" by Sybille Pearson and Michael John LaChiusa, "Here Lies Love" by David Byrne and Fatboy Slim, and "Fun Home" by Jeanine Tesori and Lisa Kron. And in case you missed the real thing, a peek at last season's "The Total Bent" by Stew and Heidi Rodewald will also be featured at the party.
Guests will get to check out the Public's refurbished lobby, which the Public now officially describes as "a public piazza for artists, students, and audiences." Guests can also explore the theater's new mezzanine, and even stop in for a drink at "The Library," the mezzanine's swanky new lounge.
And if all that exploring gets you tired, you can refuel at some of New York's best-known food trucks, which will be stationed out on the street. Or, head inside the theater, where the Public's chefs, Andrew Carmellini and Michael Oliver, will be serving up fun, New York-inspired eats.
For any aspiring actors, now could be a great time to get involved with the Public Theater.
"The Public Theater gives a wide range of opportunity and a wide range of expertise," said Allen. "So I would absolutely say that for any new artist, old artist — any artist, period — to be connected with them would be very helpful."