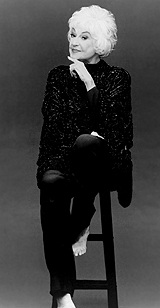 At the recent Los Angeles memorial service for playwright Jerome Lawrence, Bea Arthur, the legendary star of stage and television, got up to sing "If He Walked Into My Life," giving a whole new spin to this beloved ballad from the musical Mame. Though she appeared in both the stage and film versions of Mame, this was not among her songs in the show. She interpreted the song in what could be called more or less a talk/sing fashion, which placed special emphasis on the Jerry Herman lyrics. The effect was overwhelmingly heartrending, and the audience responded with such a warm ovation that it seemed they were welcoming back an old friend rather than saluting a revered performer. Unsurprisingly, her 2000 Tony-nominated solo vehicle, Bea Arthur on Broadway--called Bea Arthur at the El Portal during its brief local engagement next week--has been an international success. Arthur recently chatted with Back Stage West about this popular revue and her illustrious career.
Though she is best-known by audiences for playing characters that lean toward the curmudgeonly, the actor behind the gruff persona comes across as mellow and sweet-spirited. At the same time she's strong-willed, self-assured, and opinionated, but in a very informed way. She projects a regal, sophisticated aura, tempered by a down-to-earth friendliness. Following a career that has spanned 60 years, the 82-year-old Arthur says she is very much enjoying her semi-retirement. After she left the cast of the hit NBC sitcom Golden Girls in 1992, she has worked only when she has an urge to do so. She's no longer interested in tours or long-term engagements, so the four-night North Hollywood run at the El Portal suits her fine. This intimate song-and-banter revue has also played in London, Sydney, Johannesburg, and Cape Town, as well as countless U.S. cities, including a 2001 pre-Broadway run at the Thousand Oaks Performing Arts Center. Arthur has resided in L.A. since 1975, when she moved here with her former husband, director Gene Saks, as her television career was taking off. Born in New York City and raised in a small town in Maryland, Arthur abandoned her earlier pursuit of a career as a medical technician. She says, "I decided there most be something more in life than just running urines." She headed for New York, where she studied at the Erwin Piscator Studio before joining the famous Actors Studio. She met Saks there. They got married, and both of them appeared in Off-Broadway and Broadway shows. He later shifted career focus, becoming a noted director in television, theatre, and films.
Arthur indicates that the most satisfying role of her career was in the first U.S. production of the Kurt Weill/Bertolt Brecht masterpiece The Threepenny Opera in a small New York theatre on Christopher Street in 1954. "For me it was a turning point," she says. "That was the first time I realized that I belonged there, that I really had something to offer. It wasn't just something I wanted to do. I had proven I could do it. It was very important to me personally and was so well received that the theatre community started to become aware of me." She relates memories of another milestone in her career with less fondness. "I wasn't that happy with Fiddler on the Roof [in which she played the supporting role of Yente the Matchmaker]. I never even think of it, actually." The Tony-winning 1964 musical was an enormous success, but Arthur wasn't thrilled with the way her role had been reduced. "They approached me to read for the part of Tevye's wife, Golde, but when I initially read the script, I thought the part of the matchmaker was terrific," says Arthur. "I read for it and got it, but by the time we opened the show in Detroit, Jerry Robbins had to come in and tell me it was not a play about a matchmaker and he had to make cuts. I wasn't happy with what was left and tried to get out of my contract, but Harold Prince wouldn't let me. It actually turned out to be a godsend, because we had two small children by then, and my husband was very ill. I was the worker at the time, the one who brought money into the family."
Arthur is far more enthusiastic about the Broadway role that won her a Tony, as the booze-soaked, gravel-voiced stage diva Vera Charles in Mame, starring Angela Lansbury in the title role. Jerry Herman's smash 1966 musical adaptation of the Jerome Lawrence/Robert E. Lee comedy Auntie Mame was a multiple Tony-winner. "It was wonderful," she says, "I got the Tony, Angie and I had a ball, and it was a huge hit." Arthur acknowledges that this was a major career breakthrough for her, and she formed a friendship with Lansbury that has endured through the years. She makes no bones about her opinion of the 1974 film version, which recast Lucille Ball in Lansbury's role, on the theory Ball would yield better box office. Arthur didn't want to repeat her Vera Charles role in the movie, but Saks, who directed both the stage musical and the movie, persuaded her to do it. She calls the film "awful" and "disgraceful." She was appalled that Lansbury wasn't even considered, and she says that though she admired Lucille Ball's talent, she was all wrong for this role. Arthur did only a handful of films. One of the most memorable is Lovers and Other Strangers, based by Renee Taylor and Joseph Bologna on their stage comedy, and featuring Taylor, Bologna, and Anne Jackson, who forged their careers alongside Arthur in the New York Actors Studio regime of the 1950s and 1960s.
Most people in America don't see Broadway shows, and the lavish film version of Mame was a major box office bomb, so it wasn't until Arthur made her mark on television that she became a nationwide celebrity. Producer Norman Lear saw her in the Off-Broadway show The Shoestring Revue, and he persuaded her to fly to the West Coast to do some guest appearances on the groundbreaking CBS series All in the Family, as Edith Bunker's right-wing cousin Maude. A spinoff series, Maude, followed. She thus became a founding member of pioneer Lear's maturation of the sitcom, which resulted in several envelope-pushing series. His shows boldly explored controversial issues such as abortion, homophobia, racism, rape, and women's rights in the theretofore innocuous realm of TV comedy. Arthur won an Emmy for her hilarious portrayal of the ball-busting, take-no-prisoners fireball Maude.
Her next major TV triumph came in the 1980s, when The Golden Girls premiered. She joined a cast of veteran actors (Betty White, Rue McClanahan, and Estelle Getty) in a series about middle-aged women sharing a home in Florida and coping with the issues of growing older. Audiences adored the series and still do in cable reruns, where a cult following has developed. Arthur says she went wild about the scripts, having accepted her role after receiving a long series of poor scripts courting her to appear in pilots. "It was so well written, so intelligent and wildly funny," she remarks. "I didn't really think about the fact that they were elderly ladies. It was the quality of the scripts that attracted me." She remained with the show for seven years and then left it when it was still a hit, feeling she was ready to move on. The remaining characters tried to carry on without her the following season in The Golden Palace, but the chemistry was missing, and the show was quickly cancelled. She has appeared in occasional guest spots on shows such as Malcolm in the Middle in recent years.
Since 2001 her professional focus has been on her stage vehicle. Her dear, long-term friend Billy Goldenberg is music director and accompanist for her solo show, which has been described by critics as not a typical biographical cabaret. Arthur indicates that she is not entirely sure what to call it, saying that it includes a few personal anecdotes, some jokes, and some of her favorite songs, including the works of Cy Coleman, Jerry Herman, Stephen Sondheim, and Marilyn and Alan Bergman. She sets an informal tone by performing in her bare feet and talking about food recipes. According to Ben Brantley in his The New York Times review: "What Ms. Arthur brings to the crowded field of one-person star fests is the professional sheen of her comic timing....[Her show] trades on the reassurance of seeing that an old friend has grown older while remaining much the same." Arthur would likely appreciate that sentiment. She's comfortable in her own skin and doesn't seem at all in awe of her own celebrity and prize-winning performances. When I told her I read that her interests included gardening, reading, and cooking, she said, "Yes, I'm a human being, just like everyone else." Her legion of fans would likely respond, "Yes, human, but not like everyone else." BSW
"Bea Arthur at the El Portal: Just Between Friends," at the El Portal Theatre, 5269 Lankershim Blvd., North Hollywood. Thu.-Sun. 8 p.m. Aug. 5-8. $40-55. (818) 508-4200.