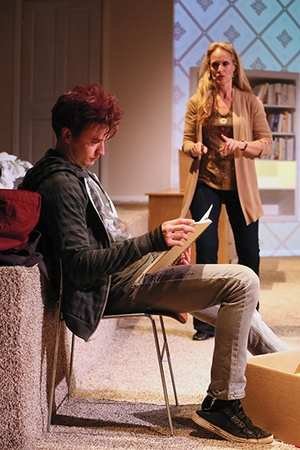 Going through three lead actors on a five-week run of "Slipping" was a crash introduction to Los Angeles for Rattlestick Playwrights Theater, according to Artistic Director David Van Asselt.
The New York–based company's inaugural L.A. production saw Seth Numrich, Wyatt Fenner, and understudy Brett Donaldson take the role of Eli in Daniel Talbott's play, which is about a Bay Area high school student who relocates to Iowa with his English-professor mother and falls for one of his classmates. Juggling the three lead actors' schedules caused the play to open a week later than planned in April for its limited engagement at the Lillian Theatre.
The company expected that the L.A. staging wouldn't be easy, Van Asselt said. "We had some snafus with actors' schedules, but I think that's probably pretty common out there in L.A.," he said. "We also work around actors' schedules in New York, don't get me wrong, but there are just so many more opportunities out there in Los Angeles, so it's a little tougher."
Despite the actors' comings and goings, Van Asselt called the show a success, and now he's scouting for "linkages" with other Los Angeles theaters.
"It might just be we do some [co-productions] here and there, as a way of easing ourselves in and learning a little bit," Van Asselt said. "There's already good theater [in L.A.]; it's not like we need to come into town like we're something special.
"It's more about just figuring out how we can help our playwrights," he continued, "and this is a place where we're going to have access to some new directors and tons of good actors that I want to put my playwrights in touch with."
Talbott, meanwhile, said Rattlestick received a tremendous welcome. "We didn't know anybody when we came out here," he said. "But it literally has been one of the most welcoming, generous communities that I have gotten to be a part of."
Rattlestick wants to become a permanent fixture in the community, Talbott said, and not just be "a New York company being a transplant out here."
Part of going local will be finding a permanent home in Los Angeles. "In New York, it felt right to settle into one place and have people always know that that's where that kind of production is going to happen," Talbott said.
That'll also mean casting out of Los Angeles. For "Slipping," Donaldson and Maxwell Hamilton, who played Chris, were cast locally. They've since collaborated with Talbott on another production in San Francisco.
"There are just so many good actors out in L.A. that I don't think that bringing people with us is something that I would really count on," said Van Asselt. "The people who are going to travel are the playwrights."