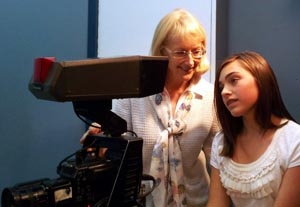 "What's not to love about being a bright inspiration for a life in the arts?" asks Rita Litton, president, director, and founder of ACTeen. "It's a great thing I get to do."
Since 1978, the school has been providing theatrical and on-camera training for teens and young adults, ages 13–20. "We strive to train teens and young adult actors to be as professional and competitive as possible," Litton explains. "Well-trained actors know how  to find solutions to problems; they're not afraid to make choices. They're flexible and directable. We teach them how to have ensemble skills and confidence both on camera and in the theater. We have focused audition skills; we want to be sure that they are well-spoken, that they have physical grace. We have 16 or 17 different courses that teach all these skills to young actors and more."
When asked how the industry has changed for young performers since the founding of ACTeen, Litton replies, "I had a student on the original '90210' and I have a student on the current '90210.' Now we have Disney and Nickelodeon, and I'm so grateful we have more cable networks employing young people, but I've always believed that I'm establishing a love of learning for the long haul. I think it's still a rare situation where a teenage novice actor is hired, but my encouragement to my students is to say, 'A well-trained actor is never a risk.' If you are a professional and as competitive as possible, you can get the job."
In addition to its ongoing curriculum for teens, the school will debut a juniors program, for ages 10 to 12, in September. "We're excited about it," Litton says. "We're branching out."
Bryan Burton, currently a senior at the University of North Carolina at Chapel Hill, attended ACTeen's summer program in 2009. "I wanted hands-on, on-camera experience," he says. "The learning experience was beyond phenomenal. I learned to focus my craft to a closer, more intimate camera medium. The support I received from Rita and her fellow teachers was amazing. They brought a lot out of me in the four weeks that I was there. ACTeen seemed like a family, and Rita was like the mother of all of us. Even today, I keep in contact with her on a fairly frequent basis."
Cathleen Coslett, who traveled with her daughters Gabrielle and Dominique from rural Pennsylvania to enroll them in summer classes at ACTeen, comments, "I've seen that not only does the work help them investigate a possible acting career, but it helps them to learn about themselves and it gives them skills to take with them in everyday life. As a parent, I think that makes it well worth the commitment. In their classes, they were learning about improv, movement, commercials, film, TV. They were doing so many different things. I saw their confidence level boosted; I saw them interact with other kids and adults much better. I see two kids that can think on their feet quickly and react and respond in interview situations and just in talking with people. I have to give ACTeen credit for boosting those qualities in my children."

ACTeen, 35 W. 45th St., New York; (212) 391-5915; www.acteen.com

ACTeen was the Readers' Choice winner in this category in 2010.
Runners-Up:
- Kim Plumridge, MTB Studio, (917) 885-7450,
www.mtbstudio.com
- Peter Miner, T. Schreiber Studio, (212) 741-0209,
www.tschreiber.org